Northern Michigan Movie & Theaters Articles
Upcoming Northern Michigan Events
Saving Northern Michigan's Small Town Theaters
Cherry Bowl Drive-In, A Summer Tradition
Grab A Meal Before The Movie
All Northern Michigan Event Articles
We checked in with the team at Erickson Center for the Arts in Curtis, near Newberry and Seney, about their brand new Pine Performance Center and upcoming summer events.Upcoming Summer Events Concerts, musicals, a variety show and more. Watch for events year-round at...
What People are Loving on MyNorth
Great Reads, Celebrating Northern Michigan
Traverse
Northern Michigan's Magazine
For more than four decades, Traverse has been capturing the beauty, people, outdoor recreation, local food and drink, events, entrepreneurial spirt and sense of community found in Northern Michigan...from Ludington to Traverse City, Petoskey to Mackinac Island and onto the Upper Peninsula.
Northern Home & Cottage
For The Way You Live Up North
Life is lived a bit differently at our Northern Michigan homes. We hang on screen porches and bring sand in our toes. We entertain friends and family and put in bunk beds for grandkids. Mud season is real. And views of every kind are maximized. Find your Northern Michigan home ideas!
Weddings
For Couples Who Love Northern Michigan
Everything you need to plan your perfect Northern Michigan wedding. Packed with ideas, gorgeous wedding stories, resources and more.
Northern Michigan Vacation Guide
Over 100 pages of fun throughout Northern Michigan. Food, beer, wine, events, shopping, lodging and all-day outdoor fun including Traverse City, Mackinac Island, Grand Traverse County, Emmet County, Leelanau County, Benzie County and Charlevoix County.
Give
Northern Michigan
Northern Michigan has an incredibly vibrant nonprofit community. Read about Northern Michigan nonprofits that are making a difference and then volunteer or donate!
Filmgoer
On the Town at the Traverse City Film Festival
This guide to the Traverse City Film Festival is the one to tuck under your arm to enjoy the festival and everything in between your movie choices. Find fun insider tips, where to grab a quick lunch and much more.
Estate & Financial Planning
Your Northern Michigan Guide to a Secure Financial Future
Whether you're a millenial just starting out or retiring to your dream spot in Northern Michigan, this region's experts have excellent advice for how to insure your financial future so you get to live your best life Up North!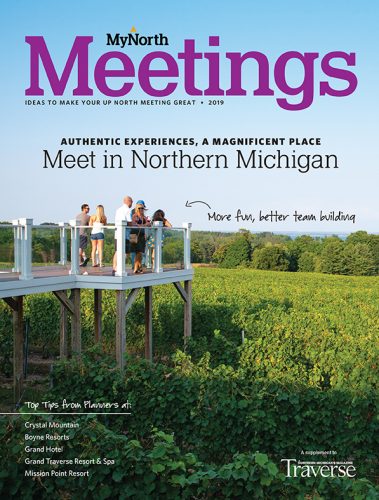 Meetings
Ideas to Make Your Up North Meeting Great
Northern Michigan professional meetings and conferences take on their own personality when you add a gorgeous, relaxed environment and fun ways to bond with peers.
Inspired Life
Living Better After 55 in Northern Michigan
Life in Northern Michigan after age 55 is truly inspired. Find ways to get outside for health and fitness, ways to volunteer, navigate the health system, find community and more.