No Results Found
The page you requested could not be found. Try refining your search, or use the navigation above to locate the post.
Upcoming Northern Michigan Events
Pellston Region Attractions
Pellston & Emmet County Videos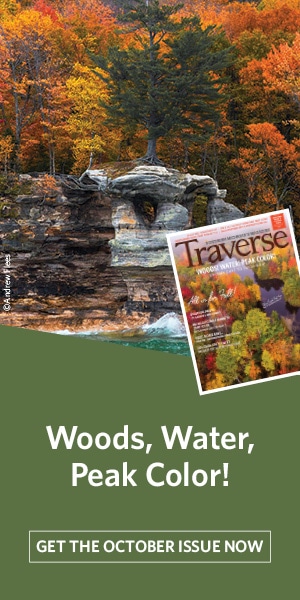 Float Through the Chain of Lakes
Rent a pontoon and cruise this 40-mile chain of three rivers and four lakes with lots of stops along the way. Boating, swimming, touring—a perfect summer day!
Biking the Boyne Region
Discover mountain bike trails at Boyne Highlands, backroads for road biking and more—Emmet County has it all.
Make it a Beach Day Near Pellston
Beaches abound within a short drive of Pellston. From sandy Lake Michigan shores to sweet inland lake hangouts, find the beach that speaks to you.
Morning Hike, Afternoon at the Beach
Nearby Thorne Swift Nature Preserve and Petoskey State Park offer an entire day of sun and fun without ever leaving that spot.
Head to Nearby Petoskey's Breweries
You won't be at a loss for IPAs, wheat beers or Belgians in Petoskey. Three distinct breweries mean you can make it a brewery tour without leaving town.
Explore the Petoskey Wine Region
Visit 14 wineries through the region, each with unique wines and beautiful settings. Hint: Check out the winemaker's choice included with each winery!
Pond Hill Farm Pours Wine and Cider
Never leave the beauty of the M119 Tunnel of Trees to sip local wine and cider in a beautiful setting.
Rudbeckia Farm: Home to Wine and Beer
The Wysokinskis came North, bought a 190-acre farm and the winery and Burnt Marshmallow Brewery followed.
Flavor and Adventure Define Petoskey's Gypsy Vodka
It was a circuitous route for these twins, dubbed "The Gypsy Brothers," but Gypsy Vodka and its tasting room are rooted and thriving in nearby Petoskey.
Pond Hill Farm Has You Covered From Organic Veggis to Wine
Pond Hill's farm store, housed in a picture-perfect old barn, offers organic vegetables and meat, flowers, chutneys and you can even pick your own berries in season.
Whitefish, Farm Market Salad, Peaches and the Beach
Local food, the beach, good friends...a perfect Up North evening. Set a lovely beach table or throw down a blanket and begin making memories.
Johan's Pastry Shop in Top 10 Bakeries in the North
Whether it's donuts and pastries on a Sunday morning or paczkis on Fat Tuesday, Johan's is always a welcome stop.
Tips on Finding, Cleaning, Storing and Cooking Northern Michigan Morels
Part science, part art, but always a worthy outing. Here is everything you need to know about where to look, how to clean and store morels, plus cooking tips and morel recipes.
Meet Katie Potts, Owner and Maker of Petoskey Cheese
Captivated by artisan cheeses, Katie Potts traveled around Europe visiting cheese shrines before returning home to graduate college and launch Petoskey Cheese.
Coveyou Farms Brings the Past and Future Together
When you visit the Coveyou Family Farm Market to pick up organic vegetable and fresh flowers, you become a part of David Coveyou's and his family's journey back and commitment to his family's farm.
Meet the Couple Behind Bear Creek Organic Farm
Ann Morningstar and Brian Bates' dream for Bear Creek was to build a sustainable environment centered around organic farming. Meet them here. Then check out their site for progress, including a solar array.
Fresh Ground Wheat Is Just one of the Secrets to Crooked Tree Breadworks
Artisanal bread is always in the oven at Petoskey's Crooked Tree Breadworks.
These Northern Michigan summer camps embrace a love of the outdoors and the arts.
There are endless opportunities for outdoor fun, so we've created this list of 10 healthy and affordable Northern Michigan summer activities to keep your family moving. 
We asked our readers to share their favorite spots to take young children to cool off (bonus points for places with playgrounds, restrooms, and picnic tables). These are their picks for best Northern Michigan beaches for kids.
From exploring the Children's Museum to family-friendly wineries, Traverse City offers endless options for kids and families!
Sometimes difficult terrain or cars zipping by can make riding too difficult for kids. Read on for our picks of the best Northern Michigan bike trails for kids.
Forts, fudge, biking the island and horse-drawn carriage rides. It's kid heaven...and parents love it, too!
Work In Pellston & Emmet County 
Find A Company in Emmet County
Living in Northern Michigan
Home and Cottage Ideas, Entertaining, Life at Home
Kids in the North: Outdoors, Health, Schools & More
Financial Planning, Millenials to Retirement
Northern Michigan Nonprofits, How to Give Back
Northern Michigan History
Northern Michigan Weddings
Pellston Airport Car Rental