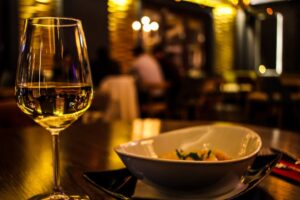 Trattoria Stella — Italian Sunday Supper
Save the date for an extraordinary evening—an Italian Sunday Supper at Trattoria Stella, Sunday, October 22, 2017, at 5:30 p.m., with cuisine from Barbaresco to Mount Etna. Iano de Grazia of Marc de Grazia Selections will host an exclusive walk-­around tasting of his portfolio prior to the dinner beginning at 4:00 p.m.
$65 per guest plus tax and gratuity.
Tasting Only -­‐ $25 per ticket.
VIP tickets that include both events are $80 plus tax and gratuity.
Please call Trattoria Stella for reservations: 231.929.8989
Aperitivi Moccagatta 2016 CHARDONNAY
Tenuta Terre Nere Bianco 2016 CARRICANTE
swordfish spiedino, cannellini, soffrito & lemon
Tenuta Terre Nere Rosso 2015 NERELLO MASCALESE
hand-­rolled busciate, wild mushrooms, eggplant, tomato
Moccagatta Barbaresco 2013 NEBBIOLO
tajarin alla finanziera
Terre Nere Santo Sprito 2015 NERELLO MASCALESE
caul fat-­wrapped lamb loin, lamb sausage
Moccagatta Bric Balin 2013 NEBBIOLO
brasato of beef short rib,
roasted carrots & butternut squash with hazelnuts
Dolce
orange cake, ricotta, pistachios & honey
Hors d'oeuvres: potato crocchette smoked shrimp, carne crudo on crackers, chicken liver paté, fried fennel & artichokes
Featured producers:
M. Marengo (Barolo) Centonze (Sicily)
Gianni Brunelli (Montalcino) Putzenhof (Alto Adige) Köfererhof (Alto Adige)
Le Calcinaie (San Gimignano)