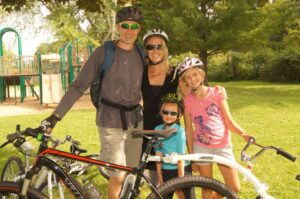 TART is thrilled to host the 17th Annual Tour de TART bicycle tour on Friday July 21, 2017. More than 600 people of all ages will hit the TART and Leelanau Trails for an evening ride that begins in Traverse City at Darrow Park and ends at Village Marina & Park in the Village of Suttons Bay.
Riders will enjoy two food stops along the 16-mile ride, a waterfront dinner at the Suttons Bay Marina, local microbrews (bring cash) and then a relaxing bus ride back home. Bus service begins at 6:30 pm and the last bus departs at 9 pm.
$40 for adults 13 and up
$15 for kids 12 and under
Prices will go up $5 per participant two weeks prior to event
The event is capped at 600 participants
Ride Details & Information
REGISTRATION and CHECK-IN
We are capping the event at 600 participants this year, so sign up early! The ride includes food stops, dinner, and a bus ride back to Traverse City. All riders must check-in between 4 and 6:30 pm under the TART Trails tent at Darrow Park, 1025 Bay St. in Traverse City. Families with young children are encouraged to check-in and begin the ride no later than 5:00 p.m. Helmets are required.
PARKING
Parking is available on surface lots at the Traverse Bay United Methodist Church at 1200 Ramsdell Dr. This allows riders to get right on the Leelanau Trail and head straight to Suttons Bay. PLEASE DO NOT PARK ON MONROE, MADISON, ELMWOOD or SPRUCE–these side streets are for residential parking only.
COURSE
17 miles of paved trail one way from Traverse City to Suttons Bay mostly on the Leelanau Trail. At the end of the trail in Suttons Bay, follow the course signs to get to Marina Park. Volunteers will be stationed at intersections.
DURATION
An average time to complete the trip is 2 hours. It could take families with young children longer, depending on how many breaks are taken, so please plan your departure time accordingly.
REST STOPS
Water, snacks and portalets are provided at Fouch Road (6 miles from the start) hosted by Brick Wheels and Bingham Road (10 miles from the start) hosted by Norte! Carrying a water bottle is suggested.
DINNER
We're thrilled to offer a whole new menu for dinner this year catered by VI Grill and in addition to root beer floats (made with Northwoods Soda & Milk & Honey ice cream) Grand Traverse Pie Company will be serving up yummy slices! Jolly Pumpkin brews and Shady Lane wines also available for purchase.
TRANSPORTATION for RIDERS
Riders will be transported back to Traverse City by school bus. Buses leave when full, with the first bus leaving at 6 pm and the last bus leaving at 9 pm sharp. Please be ready to board the bus no later than 8:50 pm.
TRANSPORTATION for BIKES
Be sure to leave your bike in the loading zone near the trucks upon your arrival in Suttons Bay; do not wait until you board the bus. Bikes will be loaded on a truck for the return trip to Traverse City. In TC, bikes are held in a secure area in the Baird Wealth Management parking lot on the corner of Elmwood and Bay St at 1001 Bay St. You will need your wrist band, which matches the band on your bike, to reclaim your bike.
BIKE RENTALS
Bike rentals are available through McLain Cycle, Einstein Cycles and Brick Wheels in Traverse City, and Body Balance and Suttons Bay Bikes in Suttons Bay.
PRE-EVENT SHUTTLE BUS OPTION
We offer special transportation for Suttons Bay area participants. A bus (and truck for bikes) will leave Suttons Bay Marina promptly at 4 pm and drop you off at the event check-in in Traverse City. Ride the event and return to Suttons Bay Marina. If you wish to use this option you must select it on the registration form when you register.
RIDE HIGHLIGHTS
Waterfront views, the yellow caboose, farms and fields, orchards and vineyards on bikes! Cool off when you get to the Marina Park and try out a stand up paddle board. Sutton's Bay Bikes will be offering demos!
All volunteers are invited to enjoy dinner at Suttons Bay Marina Park before or after their shift.
Follow and share photos with us on Facebook, Twitter & Instagram #TourdeTART