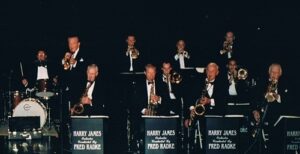 The Harry James Orchestra Conducted By Fred Radke
In 1939, after performing with dance bands including those of Ben Pollack and Benny Goodman, Harry James formed his own band with an unknown vocalist named Frank Sinatra. The rest is history.
The young Fred Radke idolized Harry James and toured with him as lead trumpet player. Fred has since performed with Burt Bacharach, Mel Torme, Ella Fitzgerald, Vic Damone, Connie Stevens, Pat Boone, and countless other talented stars.
Tickets are $35 for adults/$5 for students
Ticket office is open from 10-2pm M-F
231 386 5001
Tickets may also be purchased at the door.