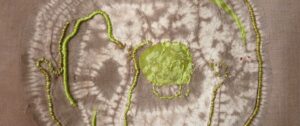 The Fiber Art of Susan Moran
The Oliver Art Center presents the fiber art of Susan Moran.
Susan Moran is a textile artist living in Ann Arbor MI. She has an MFA from the University of Michigan and has taught at the Tyler School of Art in Philadelphia, the University of Michigan, and Wayne State University. Since 1986 she has been an instructor in the Crafts Dept. at the College for Creative Studies in Detroit. Her work incorporates shibori, surface design and fabric collage.
Susan's goal as an artist is to study and master the traditional techniques of dyeing and printing on fabric and to adapt them to her own purposes. She finds inspiration in the forests of Southeast Michigan, taking daily walks in all seasons and weather. She filters images of nature through the textile processes and the inherent quality of the cloth, so that the subject matter, material, and processes emphasize and complement each other.
The exhibit will be on display from October 16 through November 25, with an opening reception on Friday October 16 from 5pm to 7pm. The reception is free and open to the public. Refreshments will be served.