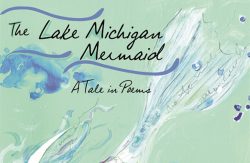 Talk About Art: The Lake Michigan Mermaid
Two Michigan poets have cast Lake Michigan as the setting for a new telling of an ancient struggle in the The Lake Michigan Mermaid. Poets Linda Nemec Foster of Grand Rapids, and Anne-Marie Oomen of Empire created an epic poem in book form about coming of age in a troubled world. They read from their 2018 work and talk about the process of collaboratively crafting this tale on Friday, June 15 at the Glen Arbor Arts Center, 6031 S. Lake St., Glen Arbor. This author reading and interview begins at 7 pm.
Accompanied by Meridith Ridl's illustrations, The Lake Michigan Mermaid explores family relationships and generational bonds. The book was crafted over a decade of back-and-forth emails between Foster and Oomen, of their drafts poems and ideas. GAAC Gallery Manager Sarah Bearup-Neal will talk with the poets about this process.
The Lake Michigan Mermaid reading is offered at no charge as part of the GAAC's exhibition "New Views: Water = Life = Art," which continues through August 4 in the GAAC gallery. For more information go to GlenArborArt.org.