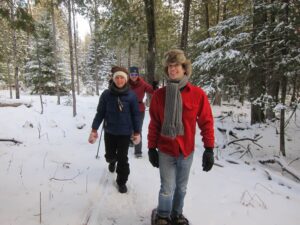 Snowshoe the Black Hole Preserve
The Crooked-Pickerel Channel and Black Hole is a well-known destination for boaters on the inland waterway (in fact, this area has been the site of PRAS paddling outings in the past). But, until now it has been inaccessible to the public from the land side. This past Fall, the Little Traverse Conservancy acquired a 113-acre parcel adjacent to the Black Hole Nature Preserve. This acquisition means that the entire nearly mile-long north and east shoreline of the Crooked-Pickerel Channel and the Black Hole (a small deep lake located midway along the Channel) is now protected. This area provides great wildlife habitat year-round. But the fact that it the Channel rarely freezes (due to relatively warm discharge from Pickerel Lake) makes it especially attractive for waterfowl and other water-dependant birds and mammals in the winter.
Join outdoorsman extraordinaire, PRAS member and LTC staff member Doug Fuller for an exploration of the new, expanded Black Hole Preserve by snowshoe on Saturday, January 26th from 1 – 4 pm. As we are not sure about the status of winter road plowing and parking conditions in the vicinity of the Black Hole Preserve, we will meet at the north end of the public parking lot adjacent to the Hillside Garden in Alanson (along US31, near the intersection with M68) and caravan to the site. Contact Doug at [email protected] (344-1009) for more information.