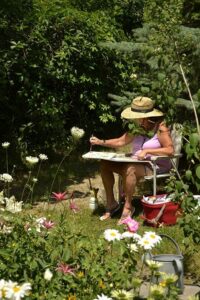 Plein Air Garden & Art Walk
Grayling, MI – Beyond the Garden Wall Garden Club and the AuSable Artisan Village have teamed up once again and are excited to present their 2014 Grayling Plein Air Garden and Art Walk on Saturday July 19th from 10AM to 4PM. This has become a favorite summer event celebrating Gardens and Artists of Northern Michigan. Extraordinary gardens abound, providing inspirations for the novice and garden enthusiast alike. Additionally, local artisans will join forces where demonstrations will be taking place at each of the gardens as well as the local galleries in downtown Grayling.
This year's gardens feature a diverse mix from River and lakeside retreats, to forest hideaways, country and small space gardens. These homes boast water features, extensive perennial, eclectic garden art, bountiful containers, luscious vegetable gardens with veggies from A to Z, a pond that is home to several species of turtles, a whimsical playhouse garden that would delight any child, and a handicap accessible garden and much more. Do not be surprised if you catch a glimpse of hummingbirds, butterfly and other native wildlife, making this garden walk a photographer's paradise.
In addition to the visual inspirations, you will have the opportunity to speak to fellow gardeners as well as the homeowners and glean tips from deer-proofing your garden, as well as encouraging plants to grow in the dry, sandy soil so common to this area. After a day strolling through the gardens you will be equipped with many ideas in which to emulate some of the great garden secrets in your own yard!
And our local artists are sure to delight your visual sense as well, with their amazing renditions of these glorious gardens. In keeping with the theme, En Plein Air, they will be demonstrating their artistry throughout the day. In addition to the traditional painters we will also have an artisan spinning wool, a decorative artist creating glass garden art, and a woodworker in the mist of building a cedar strip canoe. Artwork will be available for sale during the event as well as at the local galleries in downtown Grayling. Additionally, we will be holding a drawing for one of the artist's paintings at the gallery at the end of the day. Tickets for the drawing will be available at each of the gardens as well as the gallery. Be sure to stop in at the gallery to see the full spectrum of artwork created by local artists. You will see original painting and photography, pottery, woodworking, glass works, mixed media and much more.
This year's garden walk will prove to provide something for everyone. Whether you want to go for a leisurely stroll, garner ideas for your next garden project, or are just curious about some of the gardens that flank the local rivers, lakes, log cabins and cottages, you are sure to enjoy.
This event is co-sponsored by the Beyond the Garden Wall Garden Club and the AuSable Artisan Village. The Garden Club provides educational and inspirational events for its members and the community. Additionally, the Garden Club sponsors several gardens within the Grayling Community. Proceeds from this event go to these community gardens and events.
Tickets go on sale in June and will be available for just $6 at the following Grayling businesses. Flowers by Josie, JDAP, Riverland and Hallmark. Your ticket will be accompanied by directions to each of the gardens.
Contact:Lisa Oliver
Beyond the Garden Wall Garden Club
Grayling, MI 49738
Phone: 989-745-2728
Email: [email protected]
AuSable Artisan Village