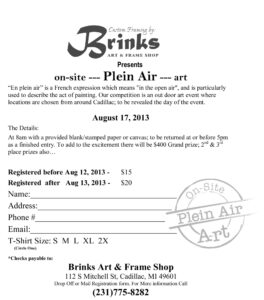 Plein-Air on-site Art Competition
Who: Spectators and Artists
What: Painting Competition
When: Saturday August 17th 2013 (with reception to follow 6-8) Ability to purchase art!
Where: Cadillac Area (exact location to be released the day of the event)
Why: To encourage the arts in our community
If you know an artist you would like to see paint send this along to them!
"En plein air" is a French expression which means "in the open air", and is particularly used to describe the act of painting. Our competition is an outdoors art event where locations are chosen from around Cadillac; to be revealed the day of the event. 
Come and join; for our second community art event. Plein-Air on-site Art; where artists from all over come to paint for one day to complete one piece of art. Brinks Art & Frame Shop is bringing awareness to our community of all of its local art and artists; well rooted and newly recognized in and around the Cadillac area. The Cadillac community has always been strong with artists, with the awareness continuing to be cultivated. Come and see "Where Art is blooming in Downtown Cadillac"
All Artist & Spectators are encouraged to come and take part in this one time a year event. Paint or drawing what you see August 17, 2013 8am to 6pm. Let's celebrate art in our community and displaying the amount of talent here in Cadillac.
Meet the Artist, and enjoy refreshments after the event. For further information, contact the guys at Brinks Art & Frame at 231-775-8282 or at [email protected]