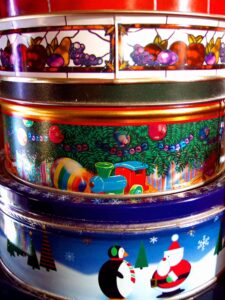 Oliver Art Center "Gifts From Your Kitchen" Class
Gifts From Your Kitchen are gifts from the heart! Create your holiday gifts in a multi-generational kitchen workshop with Kathleen Leach. Go home with Three Chocolate Bark with Caramel Spiced Nuts and Dried Cherries, Cookie Mix in a Jar, Homemade Doggie and Kitty Treats. Can your own Slow Cooker Apple Butter. Uniquely decorate all your gifts with recipes, labels, stamps and ribbons. Bring your own or use ours.  $60 (Members $50) All materials included. Registration deadline is Monday, November 9. 
The Oliver Art Center exhibits are open to the public Mon.-Fri. 10 a.m.-4:30 p.m., Sat. 10 a.m.-4 p.m., and Sun. 12 p.m. –4 p.m.  Please visit www.oliverartcenterfrankfort.org to register for classes online or contact Mercedes or Kirsten at 231-352-4151 for more information.
Parking at Oliver Art Center is limited. Overflow parking can be found along the east side of Second Street, which leads to Oliver Art Center, as well as on Main Street. Parking is prohibited in the adjacent lots of Harbor Lights, The United States Coast Guard Station, and at other condominiums.
Oliverartcenterfrankfort.org
Facebook.com/oliverartcenter
132 Coast Guard Road
PO Box 1513
Frankfort, MI 49635
Tel: 231.352.4151
Fax: 231.352.8017