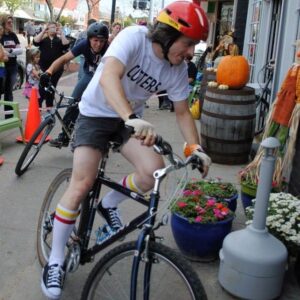 Octoberfest Music & Craft Beer Festival by Bell's Brewery
This second annual festival features a weekend of live music, beer tasting and delicious food. Highlights include a "Mitt Crit" bike race and chili cook-off, daytime family activities, and a "VIP Beer School" with Bell's Brewery staff. The event closes Sunday with a Steer & Beer Open Fire event where a large "meat wall" will be assembled to hold different types and cuts of meats, which will be cooked along a large wall of fire – creating a tasty BBQ spectacle.
Fri., Oct. 10, 6pm: Beer School
Sat., Oct. 11, 10am: Octoberfest 5K; Noon-3pm Kids' Pumpkin Patch and Harvest Activities, Chili Walk; 3-10pm Entertentainment Tent.
Sun., Oct. 12, 11am: Mitt Crit Bike Race; 1-5pm Ludington's first Meat Centric, Open-fire Cooking Event with Michigan crft beers and live music.
Ludington is at the junction of US-10 and US-31. Continue west toward Lake Michigan on US-10.