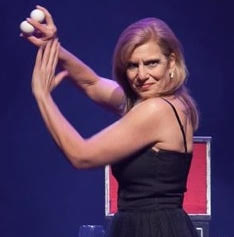 NCMC Luncheon Lecture: Those Magical Dames
North Central Michigan College's luncheon lecture series for the winter semester will begin on Friday, January 29.  A wide variety of topics will be featured: the history of Michigan's roads, the clarinet, El Niño and La Niña, women magicians, Stephen Brede's 3,800-mile Great Lakes solo voyage, presidential election preview and climate change. All programs in the winter series will be held on Fridays in the College's Library conference room. Lunch begins at 11:30 a.m. and the program begins at noon.
March 18 – Those Magical Dames. Magician Jania Taylor will review the stories of five women who have performed as magicians, from those who worked on steamer boats in the 1800s up to the present day. She will also perform some the illusions that the ladies featured in their acts. Jania is a graduate of the Chavez Studio of Magic in Colon, Michigan, a college of manual dexterity and prestidigitation. She is the third female in the history of the school to complete the course.
All Luncheon Lecture programs are held on Fridays in the Library conference room. Reservations are required.  Call 231-348-6600 or email [email protected]edu to reserve your place at the table. Cost is $10. Lunch begins at 11:30 a.m. The program begins at noon.