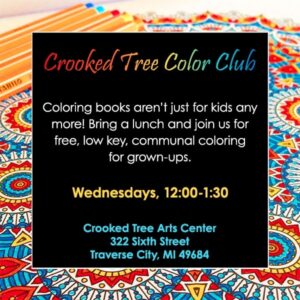 Lunchtime Coloring Club for Grown-Ups
Coloring books aren't just for kids any more!
The new school of coloring books for grown-ups feature beautiful, intricate designs and are a fun way to play with color and pattern while finding a little zen.
Wednesdays from 12:00 – 1:30, take a breather from the busy week and bring your lunch to our tranquil, riverside gallery for free, low key communal coloring. Borrow from our library of books and pencils, or bring your own.