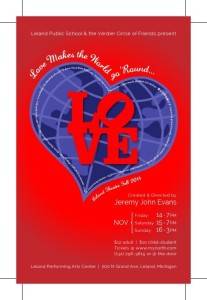 Leland Public School Presents: LOVE MAKES THE WORLD GO 'ROUND
Take a retro seat and experience the musical revue LOVE MAKES THE WORLD GO 'ROUND performed by the Leland Public School ensemble. Love songs from the 60's and 70's will capture the audience with their antics and messages about love. Perceptions of love will have the audience laughing. Be prepared to participate in the LOVE game show complete with prizes! This musical revue was created by Jeremy John Evans.
Tickets are also available at www.MyNorthTickets.com, by calling 1-800-836-0717 or by stopping in at the MyNorth Tickets office, located in downtown Traverse City at 125 S. Park St., Suite 155. Monday – Friday, 9 am – 5 pm. Look for the yellow awning.
Leland is beautifully situated on M-22 between Lake Michigan and Lake Leelanau.