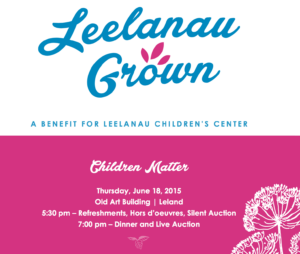 Leelanau Grown : A Benefit Fundraiser for The Leelanau Children's Center
The Leelanau Children Center Board of Directors will be hosting a dinner and live auction fundraiser to benefit the Leelanau Children's Center Thursday, June 18th at the Old Art Building in Leland.
The evening will begin with appetizers and refreshments on the lawn, followed by a family-style dinner comprised of foods from the very best restaurants and caterers in the area. A live auction fundraiser will cap off the evening with 100% of proceeds benefitting the Leelanau Children's Center.
100% food donation from the following vendors: The Riverside Inn, Superior Foods Inc., Epicure Catering, Sissions, Carlson's, Trish's Dishes, Martha's Leelanau Table, 9 Bean Rows, Hearth and Vine, Readheads Café, Bare Knuckle Farm, Stonehouse Bread, Grand Traverse Pie Company, The Bluebird and Higher Grounds Coffee. Refreshments from Northern Latitudes Distillery, Tandem Cider, Good Harbor Winery and Boathouse Winery.
Auction Items: Trip to Playa del Carmen, New York Trip, M22 road sign, England Trip, Drummond Island Trip, Lake Michigan Wine Weekend, Tandem Cider and Leelanau Cheese Orchard Pizza Party, Private Bluestone Winery Party for 8, Behind the Scenes Trip to Manitou Island, Leelanau Vacation Rentals and Crystal River Outfitters vacation package, Season of Eating package, Farewell Downton and Crystal Mountain escape. Please contact Sarah Mills, Leelanau Grown event chair at 847.903.1010 with any questions or email [email protected] for tickets or to make a donation.