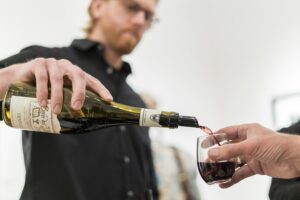 January Swirl at Crooked Tree Arts Center
January Swirl at Crooked Tree Arts Center
On Thursday, January 25, join CTAC-Petoskey for its first Swirl of 2018 as local specialty grocer Toski Sands provides hors d'oeuvres and wine, while the Dustbowl Aristocrats perform on stage.
Swirl is a monthly wine tasting with music and the most recent art exhibit on display. Each month the Arts Center partners with local wine purveyors, restaurants, and performers to put on an evening of culture and entertainment.
During the wine tasting event, three exhibits will be on display, including: "Hand in Hand: Craft and New Technologies," an exhibition exploring the relationship between tradition and innovation when applied to diverse concepts, materials, methods, and processes; the "2018 Juried Photography Exhibition," juried by the accomplished photographer and founder of the annual Photostock Festival, Bill Schwab; and the "Crooked Tree Photographic Society Exhibition," which will showcase the best photographs from the group's core membership.
Doors open at 5:30 p.m. for the Swirl, with food and music going until 7 p.m. Tickets are $15 per person in advance, or $20 the day of Swirl, and may be purchased online at www.crookedtree.org or by calling 231-347-4337. Tickets are subject to availability.
The Swirl season will continue on Thursday, February 22 with Vernale's and Petoskey Brewing, and musical entertainment by Michelle Chenard.
For more information and to purchase tickets, contact the Crooked Tree Arts Center, 231-347-4337 or visit www.crookedtree.org. The Crooked Tree Arts Center is located at 461 E. Mitchell Street, downtown Petoskey.