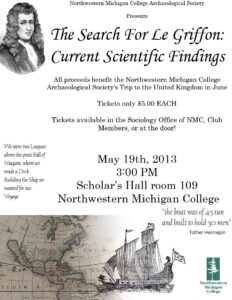 In Search of LeGriffon – Current Scientific Findings
The mysterious loss of LaSalle's sailing vessel Le Griffon in 1679 is one of the most significant and enduring legends in Great Lakes maritime history. For over three centuries, adventurers and historians have searched for the resting place of this enigmatic shipwreck, believed to be in Lake Huron or northern Lake Michigan.
Now, thanks to modern scientific remote-sensing technologies, archaeologists are unraveling the mysteries. Ken Vrana, an associate of the Great Lakes Exploration Group, will share the current scientific findings on a promising site in northern Lake Michigan. Mr. Vrana is an underwater archaeologist and historic shipwreck management specialist who coordinated the first U.S. civilian expedition to Edmund Fitzgerald, and is currently co-director of the Titanic Mapping Project. 
Mr. Vrana's presentation titled, the Search for Le Griffon – Current Scientific Findings will be this May 19 at 3:00 pm, and is a fundraising event for the Northwestern Michigan Archaeological Society. The event will be held in Scholar's Hall Room 109 on the campus of Northwestern Michigan College (Traverse City). Tickets are $5.00.
Le Griffon was built by Rene-Robert Sieur de La Salle, one of the first French explorers of the Great Lakes Region. He would later claim the Mississippi River watershed for France, a vast expanse of land that extended from the Allegheny Mountains to the Rocky Mountains and north of the Great Lakes. Much of this region would become the Louisiana Purchase.
In 2001 a timber believed to be a component of Le Griffon's hull was discovered in northern Lake Michigan. Since that time, the Great Lakes Exploration Group has made significant advancements in the scientific survey and assessment of the site. 
The Northwestern Michigan Archaeological Society is a student-based group associated with Northwestern Michigan College. All proceeds will be used by club members to help cover the expenses of their summer archaeological field school in Great Britain. 
For more information, contact the Social Science Office of NMC at (231) 995-1290. Tickets will be available from the Social Science Office, club members, at the NMC BBQ, or at the door. This event is being held in conjunction with the NMC BBQ.