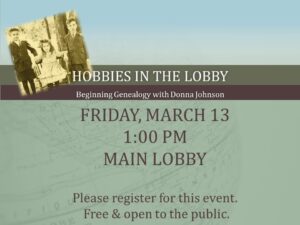 Hobbies in the Lobby – Beginning Genealogy
Beginning Genealogy Workshop with Donna Johnson
Friday, March 13, 2015 at 1:00 p.m.
The Petoskey District Library is excited to welcome Donna Johnson as part of Hobbies in the Lobby.  Donna is a founding member of the Emmet County Genealogical Society and was born and raised in Petoskey.  Join Donna as she shares her knowledge and research and take home a packet of resources to help start your very own research. Hobbies in the Lobby is free and open to the public.  Registration is recommended.  For more information or to register, call the library at (231) 758-3111.