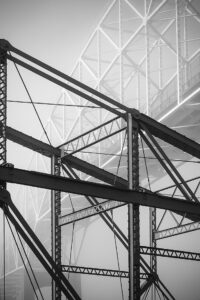 GTAC 2018 Winter Exhibitions Open
GTAC 2018 Winter Exhibitions Open – Winners Announced
On January 20, Crooked Tree Arts Center opened three exhibitions at its Petoskey location: The "2018 Juried Photography Exhibition;" "Hand in Hand: Craft and New Technologies;" and the "Crooked Tree Photographic Society Exhibition." All three exhibitions will be on display through Saturday, March 24.
The "2018 Juried Photography Exhibition," juried by accomplished photographer and founder of the annual Photostock Festival, Bill Schwab, includes 90 photographs by local and regional photographers. During the opening reception, four awards were presented, including: First Place to Brian Hunt for "Under the Bridge," sponsored by Korthase Flinn Insurance and Financial Services; Second Place to Robert Marckese for "Chicago Cultural Center #1," sponsored by Ollar Consulting; Third Place to Rebecca Zeiss for "In Search of Forgiveness," sponsored by Dennis, Gartland & Niergarth; and the Alternative Process Award to Marianne Priest for "Untitled," which exhibits the silver gelatin lith print process.
"Hand in Hand: Craft and New Technologies," is an exhibition exploring the relationship between tradition and innovation when applied to diverse concepts, materials, methods, and processes, which was initially juried by CTAC Galleries Director Sheila Ruen. CTAC Board Member and North Central Michigan College Faculty Member, Anne Morningstar Bates juried the exhibit's diverse submissions, and selected the following winners: Richie Gunn took First Place for "Boardman River Rambler;" Robert J. Krawczyk took Second Place for "Exploring the Visualization of Music;" and Taekyeom Lee took Third Place for "3D Printed and Fired Porcelain Work." After March 24, "Hand in Hand: Craft and New Technologies" will be moving to Crooked Tree Arts Center – Traverse City and on display from April 7 – May 5.
The "Crooked Tree Photographic Society Exhibition," showcases the best photographs from the group's core membership. The Crooked Tree Photographic Society (CTPS) is an open group of photographers who reside throughout Northern Lower Michigan and who enjoy getting together monthly at the Crooked Tree Arts Center – Petoskey. Meetings occur on the third Wednesday of each month at 6 p.m., and members are provided with an opportunity to get together and discuss photography with their peers, receive valuable reviews of their work, and increase their knowledge of the photographic medium. There is no fee to belong to this group, but a current Crooked Tree Arts Center membership is preferred.
Corresponding Coffee @ Ten lectures will occur on Tuesday, January 30 with "Hand in Hand" exhibiting artist Taekyeom Lee, and on Tuesday, February 13 with Bill Schwab, juror of the "2018 Juried Photography Exhibition."
These exhibitions were made possible in part by the support of Edward Jones Investments of Petoskey, Harbor Springs and Traverse City.
For more information, please contact the Crooked Tree Arts Center at 231-347-4337 or visit www.crookedtree.org. The Crooked Tree Arts Center is located at 461 E. Mitchell Street, downtown Petoskey.