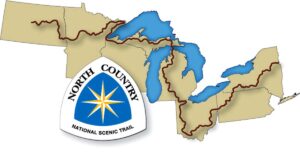 Friends @ the Carnegie: Trails in the Tip of the Mitt
Northern Lower Peninsula is blessed with hundreds of miles of non-motorized trails. Have you ever wondered how this came to be? Why they are so important to our community and who is investing in them? Come learn about the extensive trail network, including and highlighting the North Country National Scenic Trail with Duane Lawton, president of the Jordan Valley chapter and Emily Meyerson, DNR trails coordinator, at the Petoskey District Library Carnegie Building on Monday, May 22 at 7:00 p.m.
Duane Lawton is president of the Jordan Valley 45 Chapter of the North Country Trail Association. The Jordan Valley 45 Chapter is responsible for developing, maintaining, protecting and promoting their section of the North Country Scenic Trail.
Emily Meyerson has been working for over 20 years as a community planner and trail advocate and currently serves as the DNR's Northern Lower Peninsula Trail Coordinator. Prior, she worked with local government and then as a consultant helping to plan, develop and manage a 280+ mile network of multi-use trails in northern Michigan. Emily's passion is advocating for the preservation of small towns and creating safe, healthy and walkable communities.
Emily grew up in the Detroit area and has two degrees from the University of Michigan, a Master of Urban Planning and a Bachelor of Arts. She also earned a Professional Certificate in Peace and Conflict Resolution through a Rotary Fellowship. You can often Emily exploring the outdoors running, hiking, biking, skiing, canoeing or camping.
All Friends @ the Carnegie programs are held at the Carnegie Building at 451 E. Mitchell Street, unless otherwise noted. The programs are offered at 7:00 p.m. on the fourth Monday of every month, except May (third Monday) and December (no program). All Friends @ the Carnegie programs are open to the public and admission is free. If you would like more information about this or other Library events, call the Petoskey District Library at 231-758-3100, or visit their website, www.petoskeylibrary.org