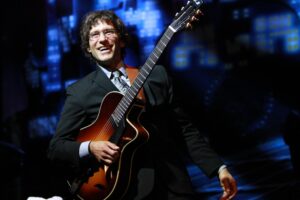 Frank Vignola is one of the most extraordinary guitarists performing before the public today. His stunning virtuosity has made him the guitarist of choice for many of the world's top musicians, including Ringo Starr, Madonna, Donald Fagen, Wynton Marsalis, Tommy Emmanuel, Mark O Connor, the Boston Pops, the New York Pops, and guitar legend Les Paul.
Tickets– $15.00; Senior- $12.00; Child-$8.00

Tickets are also available at www.MyNorthTickets.com, by calling 1-800-836-0717 or by stopping in at the MyNorth Tickets office, located in downtown Traverse City at 125 S. Park St., Suite 155. Monday – Friday, 9 am – 5 pm. Look for the yellow awning.