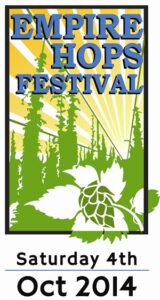 The Empire Hops Festival is on Front St. between Union & La Rue in downtown Empire.
Breweries, New Holland, Right Brain, Stormcloud Brewing Company Frankfort, Beards of Petoskey, Shorts, The Workshop
Food vendors. Scalawags Fish & Chips, Deerings, Baytown Kitchen, Joe's Friendly Tavern, Art's Tavern and Firedog Artisan Pizza
Music, The Benzie Playboys & Black Jake & the Carnies.
An entry fee of $10 will be charged which will include complimentary glass & drink tickets.
Tickets are also available at www.MyNorthTickets.com, by calling 1-800-836-0717 or by stopping in at the MyNorth Tickets office, located in downtown Traverse City at 125 S. Park St., Suite 155. Monday – Friday, 9 am – 5 pm. Look for the yellow awning.
Empire, the heart of the Sleeping Bear Dunes, is along the shores of Lake Michigan where M-22 intersects with M-72, about 40 minutes from Traverse City.