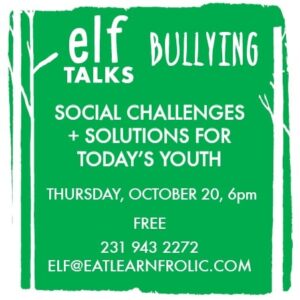 ELF Talks: Social Challenges + Solutions for Today's Youth
The ELF Talks panel discussion series continues at ELF | eat learn frolic on Thursday, October 20 at 6:00pm. The topic of this edition is: Social Challenges and Solutions for Today's Youth featuring some of our community's leading voices in support of National Bullying Prevention Awareness month.
ELF is proud to present an informed discussion on the topic of bullying and its various forms. Today's children are faced with increasing challenges in their social engagements and parents and caregivers are tasked with guiding young ones through these obstacles. As a resource for all things "family", ELF is convening experts in the field to provide facts and tools to help parents and caregivers should a situation arise and hopefully to prevent them from occurring. Scheduled presenters include Monica Beck – civil rights attorney, Matt Missias – Academic Consultant with Cultivated Learning, and Becky Rogan – Executive Director of Conflict Resolution Services. Join us at ELF for this no-cost presentation and Q&A on these obstacles and opportunities. As always, littles are welcome.