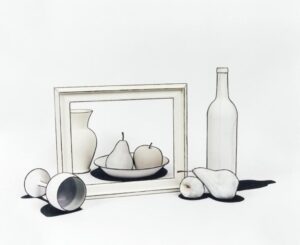 Cynthia Greig Photography
Cynthia Greig Photography: True Likeness: Representations and Nature Morte
Cynthia Greig makes images that at first glance don't look like the photographs they are. Exploiting the deceptive nature of appearances, her work examines the illusory nature of photographic truth and its correspondence to perceived reality.  While working on an earlier series, Life-Size, in 2001 Greig conceived of a new body of work when she imagined how she might merge a photograph of a miniature table with a drawn version of the object. Developing a technique that combines color photography with painting and drawing she began creating visual hybrids that deconstruct how we see, identify and remember by denying our perceptual expectations of both photography and reality.
For her series, Representations, Greig collects objects from thrift stores and garage sales. Most of these items represent ordinary household possessions from the recent past —a corded telephone, a radio cassette player, a black and white tv. However, Greig transforms and photographs these real objects to look like simple line drawings. To create this illusion she first whitewashes and then rearticulates the object's form by drawing directly onto its surface with black charcoal. No digital manipulation is involved; the deception depends on the monocular view of the camera as documented in the resulting photograph. As photographic documents of three-dimensional drawings, her austere, elegant images reduce the object to an iconic representation of itself, calling attention to its aesthetic or obsolescent design, and, oftentimes, its outdated technology.
In her subsequent series, Nature Morte, Greig similarly combines photography, paint and drawing, but pays homage to the traditions of Dutch still life and vanitaspainting. Introducing the physical effects of time's decay upon still life arrangements made with real and artificial fruit, her video, Still Life with Peaches, contrasts the withering skins and outlined forms of whitewashed fruit against the persistence of a single, unchanging plastic peach. Whereas the video reveals the ruse, the photographs do not. Photographing faux with real fruit, Greig reveals both the capabilities and limitations of photographic vision while slyly referencing the impact of genetic modification upon our food supply as it infiltrates and forever alters the "naturalness" of Nature.
Whereas many artists have painstakingly created paintings that mimic photographic realism, Greig creates photographs that resemble drawings. In 2010, Colombian curator, Caridad Botello, observed, "Greig's work becomes especially relevant in the digital era, where a truthful value is still attributed to analogue photography as opposed to the deceiving value of digital techniques and manipulating computer tools. Greig's photographs are analogue; in the use of her own technique, we find the artist stretching the possibilities of photography as a medium, not as a capturer of a fixed reality but as an apparatus that calls into question our perception of reality."
Cynthia Greig
 Drawing inspiration from her diverse background in photography, printmaking, filmmaking, museums and design, Cynthia Greig has been making photographs and videos since 1990. Exhibited in both the US and abroad, her works are held in private and public collections, including the Museum of Fine Arts, Boston MA, George Eastman House, Rochester NY, Museum of Contemporary Photography, Chicago IL, Museum of Fine, Arts, Houston TX and Smith College Museum of Art, Northampton, MA among others. In 2015 The Kresge Foundation awarded Cynthia a Kresge Arts in Detroit Artist Fellowship; her work has received previous recognition and awards from the Aperture Foundation (New York), Center for New Television (Chicago), Houston Center for Photography, Michigan Council for the Arts and Cultural Affairs and Santa Fe Center for Photography.  An avid collector of vintage photography, Cynthia also co-authored the book, Women in Pants: Manly Maidens, Cowgirls and Other Renegades (Harry N. Abrams, NY, 2003), chronicling the history of women who dared to wear trousers before they became an accepted clothing option. Cynthia received her MFA in photography from The University of Michigan School of Art + Design in Ann Arbor, MI in 1995.
This event is free and open to the public.
Image: Nature Morte no. 4 (Still Life inside Out), chromogenic development print, 26 x 32 inches, 2009