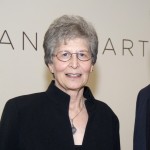 Coffee @ Ten with Lois Teicher
A professional sculptor for over 30 years, Lois' journey has led her to search and understand the fundamental structure of the Universe. As she evolved as an artist she became aware of basic essential concepts, such as the existence of Time/Space continuum. As a result, she found herself compelled to use space as a material, along with other basic essential ideas, such as duality held in dynamic tension and various aspects of energy. These ideas are interpreted and restated into three dimensional forms. Themes used in her work flow directly from her search to understand and connect to the universal.
Working in three dimensions is complex in its physical manifestation of realizing an image then working in two dimensions. For a sculptor, from the imagined idea to the physical form takes an enormous amount of physical energy, tools, knowledge, experience, and skill to finish a sculpture. Starting with an idea, creating a model, then the fabricating process which involves understanding how to fabricate the image and scale up from the model, so that the relationships are accurate. Teicher must measure precisely; cut the metal, weld it together, grind off excess welding material, sand using many grits, clean and paint. Although her focus is in commissioned site specific work, she is simultaneously working in my studio fabricating welded pieces, which is an ongoing process of developing new ideas/images.
This event is free and open to the public.