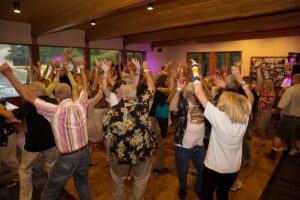 Club Ponytail: A Reunion Party
The Harbor Springs Area Historical Society invites you to relive the glory days of northern Michigan's most popular teen club at our second annual Club Ponytail: A Reunion Party on Thursday, August 24, 2017. Held at Nub's Nob Ski Area, this throwback party of the summer will feature live music from the Boyfriends (an original Club Ponytail band), a picnic dinner, memorabilia and more. Tickets are $35 in advance and $40 the week of the event and can be purchased online at www.HarborSpringsHistory.org/shop.
Club Ponytail was a teen club that opened in 1962 in the old Club Manitou building on Pleasantview Road in Harbor Springs. Club Ponytail enjoyed enormous success and drew national and international bands like the Beach Boys and the Animals to their stage. Though a fire destroyed the club in 1969, its history and the stories of those who spent their summers there remain. You won't want to miss this chance to reminiscence and reunite with friends, neighbors and fellow "Tail goers."
For more information please call the Historical Society at (231) 526-9771.