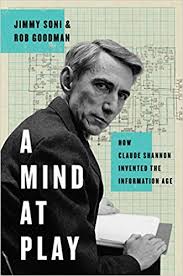 Claude Shannon Biographers Jimmy Soni and Rob Goodman visit Gaylord for Book Signing
Saturn Booksellers in downtown Gaylord will host authors Jimmy Soni and Rob Goodman for a reading and signing for their book, A Mind at Play, How Claude Shannon Invented the Information Age, on Thursday, September 21st, at 6:30 pm at the Otsego County Library. This event is brought to you by Saturn Booksellers, the Otsego County Library, and the Otsego County Historical Society.
The life and times of one of the foremost intellects of the twentieth century: Claude Shannon – who grew up in Gaylord and became the architect of the Information Age, whose insights stand behind every computer built, email sent, video streamed, and webpage loaded, is chronicled in
Soni and Goodman's new biography.
In this elegantly written, exhaustively researched biography, Jimmy Soni and Rob Goodman reveal Claude Shannon's full story for the first time. It's the story of a small-town Michigan boy whose career stretched from the era of room-sized computers powered by gears and string to the age of Apple. It's the story of the origins of our digital world in the tunnels of MIT and the "idea factory" of Bell Labs, in the "scientists' war" with Nazi Germany, and in the work of Shannon's collaborators and rivals, thinkers like Alan Turing, John von Neumann, Vannevar Bush, and Norbert Wiener. It's the story of Shannon's life as an often reclusive, always playful genius. With access to Shannon's family and friends, A Mind at Play brings this singular innovator and creative genius to life.
Tickets for Soni and Goodman's event are free and are available now at Saturn Booksellers or the Otsego County Library. Books to be signed are available now at Saturn Booksellers. Saturn will also be on hand with additional copies the evening of the event. As the bookstore is bringing these authors to town, the publisher strongly encourages all books purchased for signing come from Saturn Booksellers. You can get information on this event, along with information about Saturn's other upcoming events, at the bookstore at 127 W. Main St. in downtown Gaylord, on the web at http://www.saturnbooksellers.com/event/join-us-celebrating-gaylords-most-famous-native-claude-shannon, or by calling the shop at 989-732-8899.