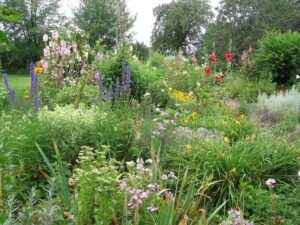 The Botanic Garden Presents "Celebrating Garden Clubs Day'
The Botanic Garden at Historic Barns Park is pleased to present "Celebrating Garden Clubs Day" at The Botanic Garden Visitor Center. We will be hosting an Open House on Sunday, July 31
st
from
10:00 am to 4:00 pm
. "Celebrating Garden Clubs Day" at the Garden is an opportunity for us to express how grateful we are for the support we receive from garden clubs. The vision, commitment and donations of garden clubs have helped The Botanic Garden come closer to our goal of becoming a year-round sanctuary of environmental preservation, recreation and education.
This event is free and open to the public with a special invitation to all Michigan Garden Club members to join us for the celebration.
Events throughout the day will include Rosie Wagon Tours, Friendly Garden Club of Traverse City Blue Star Memorial Dedication ceremony, Sakura Bonsai Society of Northern Michigan exhibit, the Artist of the Month exhibit featuring photographs Don Rutt and Kristina Lishawa, a Master Gardener exhibit and early signup opportunities for fall classes. Refreshments will be provided throughout the day on the pavilion.
Special event schedule:
2:00 pm:
Friendly Garden Club of Traverse City Blue Star Memorial Dedication ceremony
11:00 am
1:00 pm and 3:00 pm:
Rosie Wagon Tours
Admission is always free, though we welcome donations and annual memberships to support the development of The Botanic Garden. The garden grows through support of the community and there are many benefits of membership, including:
·
A Botanic Garden membership card, which entitles members to reciprocal admission privileges with APGA member gardens nationwide
·
10% off all classes and workshops through The Botanic Garden
·
10% off Gift Shop purchases
·
10% off Visitor Center and Gardens rentals
·
Discounts at local garden centers and retailers, including:
o

  
10% off trees and shrubs at Garden Goods
o

  
10%-20% off select participating retailers including Pine Hill Nursery, Horizon Book Store, Barker Creek Nursery & Landscaping
·
Free subscription to Better Homes and Gardens magazine
GARDEN HAPPENINGS:
The best way to keep up with all the latest events and expansion of The Botanic Garden is to "Like" us on Facebook, sign up for our quarterly e-newsletter entitled Garden Clippings and check our website often for upcoming events, classes and photos of how the garden is growing.