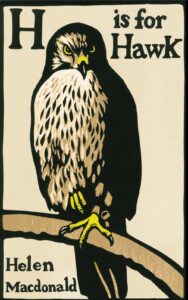 BookTalkers: "H is for Hawk"
Monday, September 19, 6:00 pm
When Helen MacDonald's father dies suddenly, she is devastated . To help cope with her grief she turns to an unusual companion–a goshawk she names Mabel. An experienced falconer, Helen sets out to train Mabel and turns to a book written by T.H. White (author of 'The Once and Future King') for guidance. Projecting herself 'in the hawk's wild mind to tame her' tests the limits of Macdonald's humanity and changes her life. This memoir is three stories: Helen's struggle to overcome the paralysis of grief, a description of the craft of fa lconry, and her analysis of the tormented psyche of T. H. White.