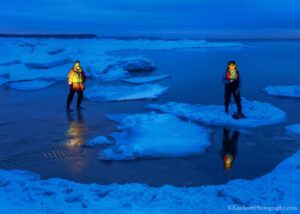 Art of the Watershed Exhibit: Hidden Places Along the Leelanau Coast
The exhibit features artist Kaye Krapohl and photographer Ken Scott and their interpretation of 98 miles of Leelanau coast, which they explored over the course of a year.
For over a year, Krapohl and Scott explored the perimeter of Leelanau peninsula, rising pre-dawn or battling -30 degree temperatures and 20 mile an hour winds for a journey that challenged them on multiple levels: balancing the boundaries of each other's artistic space, equipment and Mother Nature's unpredictability. The result: a surprisingly diverse interpretations of each section by the artists.
A portion of sales will support The Watershed Center Grand Traverse Bay, which advocates for water quality in Grand Traverse Bay and works to preserve and protect its 1,000-square-mile watershed.