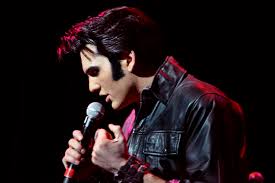 All Elvis! Featuring Shawn Klush, the World's Greatest Elvis! at the Southside Festival Grounds in Buckley
On Jan 6th just 2 days before Elvis' 70th Birthday, Shawn became grand champion at the $25,000.00 "World Elvis Tribute Artist Competition". He then received "The Peoples Choice Award" from Gibson Guitar Co in Nashville for "Best Concert Elvis". Shawn was then named the "World's Greatest Elvis" by 6.5 million international viewers on BBC1 Television in the United Kingdom. Finally, on August 16th, on the 30th anniversary of Elvis' passing, Shawn was named the 'First Ever' "Ultimate Elvis Tribute Artist" by Elvis Presley Enterprises in Memphis TN. 
VIP Adult Ticket $35 (plus $3 ticket fee); Adult General Admission $25 (plus $2 ticket fee); Children (6-15 yrs) $15 (plus $2 ticket fee)
Tickets are also available at www.MyNorthTickets.com, by calling 1-800-836-0717 or by stopping in at the MyNorth Tickets office, located in downtown Traverse City at 125 Park St., Suite 155. Monday – Friday, 9 am – 5 pm.
Buckley is on M-37, about 30 minutes South of Traverse City.