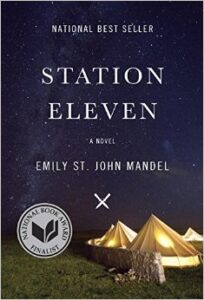 A Conversation with Emily St. John Mandel
North Central Michigan College invites the public to a special presentation and book-signing with best-selling author Emily St. John Mandel. The event will be held on Tuesday, November 3 from 2 p.m. to 3:30 p.m. in the Iron Horse Café on the Petoskey campus. This is a free event.
Ms. St. John Mandel will discuss her book, Station Eleven, answer questions and sign books following the presentation. Station Eleven is the story of the Traveling Symphony, a troupe of Shakespearean actors and orchestral musicians traveling the shores of the Great Lakes in a post-apocalyptic Michigan, striving to maintain their humanity in the altered landscape of a world where 99% of the population has been wiped out by a flu pandemic.  Station Eleven is set in a world turned upside down, but is ultimately an exploration of people surviving and remaking their lives by preserving the qualities that make us human: culture, art and the humanities. The book was on the New York Times best-seller list for eight weeks and was one of the best-reviewed books in 2014.  It is the selection for the 2015-2016 Great Michigan Read.
At 3:30 p.m., after the author's departure from campus, there will be a reception in the Library for attendees, with light food and beverages, and music provided by Trillium, a string duo of violin and cello from the Great Lakes Chamber Orchestra.
At 5 p.m., the Pigeon Creek Shakespeare Company will stage a performance of Station Eleven inspired by scenes from King Lear, A Midsummer Night's Dream and other plays. The Pigeon Creek Shakespeare Company, based in Grand Haven, is Michigan's only year-round, professional Shakespeare touring group.
All events are free. Please RSVP to [email protected] if you plan to attend. For more information on the Great Michigan Read, go to http://www.michiganhumanities.org/great-michigan-read/gmr-2015-16-title/. 
Prior to the presentation on November 3, North Central English professor Jami Blaauw-Hara will lead two public discussion groups at McLean & Eakin Booksellers, 307 E. Lake Street on Wednesday, October 21 from 6 p.m. – 8 p.m. and October 28 from 10:30 a.m. – 12 p.m. No reservations are needed for the discussion groups; all who have read the book are welcome.