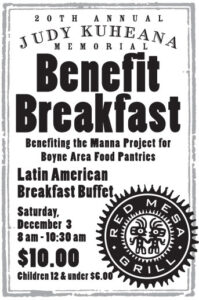 20th Annual Judy K Benefit Breakfast- This Saturday
On Saturday, Dec. 3, The Red Mesa Grill in Boyne City will host its 20th annual Judy Kuheana Benefit Breakfast. The all-you-can eat Latin American breakfast buffet will be served from 8 to 10:30 a.m. Judy was a founder of the 7th Day Adventist Food Pantry. She passed away in October of 1996.
The Red Mesa Grill, with the help of Judy's brother, Jerry Kelts, has held this benefit breakfast on the first Saturday of December since it opened in 1997, raising well over $27,000 to benefit
Boyne area charities.
This year all proceeds will benefit Boyne Area Food Pantries through the Manna Food Project.
Cost for the breakfast is $10 for adults and
$6 for kids 12 and under.
Menu items include green chili corn cakes with poached egg and hollandaise, chorizo gravy and biscuits, waffles, sausage, bacon, omelet table with eggs to order featuring fresh chimmichuris.
Donations are currently being accepted for our silent auction. All proceeds will also go towards Boyne Area Food Pantries.