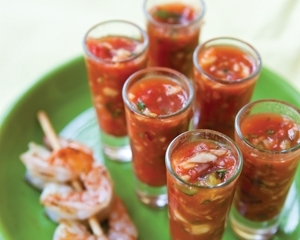 Easy Summer Gazpacho
Local Foodie: These cold and complex flavors complement a summer day perfectly. The glorious food spread by Grandview Catering at last summer's Traverse City Film Festival Founder's Party played a starring role at the lush and lovely event set in Ciccone Vineyard and Winery. The blend of creativity (bruschetta bar with U-snip micro-greens, a mashed potato martini bar—hard to explain but marvelous!) and local ingredients (sammies filled with Michigan maple cream on pecan shortbread); grilled local veggies served with green goddess dip was memorable. So much so, that this summer had us contacting Grandview Catering for a recipe to share.
Operations manager Jen Foltz offered up this gazpacho, which is as simple to make as it is easy to load up with local veggies. Jen says to use the freshest, reddest tomatoes you can find. She likes to serve gazpacho at parties as a tray-passed hors d'oeuvre in shot glasses. tcfood.com.
Ingredients
2 large, fresh cucumbers, peeled, seeded and chopped
2 large, fresh tomatoes, chopped
1 large fresh green pepper, seeded and chopped
1 small red onion, chopped
1 46-ounce can of V8 juice
½ cup dry sherry
2 tablespoons olive oil
1 tablespoon Worcestershire sauce
¼ cup white vinegar
3 dash Tabasco
2 tablespoons fresh parsley, chopped
½ teaspoons celery salt
1 garlic clove, large minced
Salt and pepper to taste
Directions
Roughly chop the cucumbers, pepper, and tomatoes into 1-inch cubes. In a food processor, pulse each vegetable separately until just coarsely chopped. Do not over process! After each vegetable is processed, combine it in a large bowl and add the remaining ingredients. Mix well and chill before serving. The longer the gazpacho sits, the more the flavors will develop. You can use this recipe as a base. Add a dash of beef stock for a heartier taste, spice it up with spicy V8, jalapeno, cumin, and cilantro, or toss in extra veggies from your garden. Garnish with shrimp, sour cream, croutons or fresh herbs.