Searching for what's new Up North in 2022? Each month in Traverse, Northern Michigan's Magazine, we share the newest openings for local businesses, restaurants, breweries, wineries and so much more. Not a print or digital subscriber? Check out our quarterly online roundup below to see what's new in Northern Michigan.
Know of a business that just opened? Have a fun community update? Let us know! editorial@traversemagazine.com
Business & Restaurant Openings | September 2022
BAKES & KROPP
801 Front St. | Bay Harbor | Bakes & Kropp Website
Bakes & Kropp, a luxury kitchen design and manufacturing company, expanded to Northern Michigan in June. The showroom is located in the Chatham House Lifestyle Gallery and the team is excited to help homeowners in creating their dream kitchens, bathrooms, closets, wine rooms and more.
BLESSED BE TEA AND APOTHECARY
116 E. Front St. South Ste. | Traverse City | Blessed Be Tea Website
This herbal tea and retail shop offers powerfully charged products with a purpose, whether that be physical or metaphysical. Visitors will find locally sourced handcrafted tea, essential tools for the modern-day spiritualist and a safe space for learning and growing. For upcoming events, follow @blessedbetea on Facebook.
J. BIRD PROVISIONS
109 Bridge Park Dr. | Charlevoix | J. Bird Website
A specialty grocery store with seasonal grab-and-go salads, sandwiches, artisanal dips, beverages and more. Located downtown by the Beaver Island Boat Co.
PICNIC
102 N. Main St. | Leland
Find lots of picnic items from sandwiches and salads to candy, charcuterie, ice cream and fudge. Follow on Instagram @leland_picnic.
September Featured New Business Spotlight
HIDDEN TOY STORE
215 Mill St. | Northport |Yard & Lake Website
You won't find Northport's newest business on a traditional map. Tucked into the back of home décor boutique Yard & Lake is a small room curtained by nautical rope. Aptly named Hidden, the shop is "a little treasure cove just loaded floor to ceiling with toys," says owner Shawn Santo, who explains that the only way to find it is on treasure maps given out to children in town. When "pint-sized visitors" reach Yard & Lake, they'll need to find and ring an authentic navy bell. After ringing it, they'll hear a warning from employees, "Enter at your own risk," and can then pull back the ropes to reveal Hidden. A gold "X" painted on the floor sits beneath shelves of goodies—mermaid tail swimsuits, sand toys and more—letting kids know they've found the fortune. The inventive idea of combining a treasure hunt and a toy store was imagined by Santo and her husband Kevin Borsay, who hope to create joyous memories for kids. "When you see a child squeal because of a submarine or a mermaid tail, you can't beat that feeling," Santo says. "We just want to be a part of children's memories of Northport."
Photo by Dave Weidner
Photo by Dave Weidner
Photo by Dave Weidner
August 2022 Business & Restaurant Openings
AMY KATE DESIGNS & GOLDEN HILL FARMS
131 River St., | Elk Rapids | Amy Kate Website
This gift, home and garden shop offers the likes of beeswax candles, potted plants and beautiful florals. The shop is run by the talented team at Amy Kate Designs, a boutique for floral design and events.
CAPITAL DOG
106 St. Mary's St. | Lake Leelanau | Capital Dog Website
Serving hot dogs, slow-roasted pork and ice cream. Look for the white building with a black awning; if the stoplight on the side is green, they're open.
ETERNAL WELLNESS SPA
400 W. Front St., Suite 200 | Traverse City | Spa Website
A downtown medspa above North Peak Brewing Company offering a wide variety of services and aesthetic medicine procedures.
QUIET MOOSE SECOND HOME
305 E. Mitchell St. | Petoskey | Quiet Moose Website
The Quiet Moose, a full-service interior design studio and furniture store in downtown Petoskey, opened a second location across the street to expand its selection of indoor and outdoor goods and décor.
ROUGH PONY
144 Hall St., Suite 100 | Traverse City | Rough Pony Insta
A cash-only coffee and juice bar inside the Warehouse MRKT with fresh bagels from Bubbie's. Hours and menu posted on Instagram @roughpony.
Photo by Rough Pony, Warehouse MRKT
Photo by Rough Pony, Warehouse MRKT
Photo by Rough Pony, Warehouse MRKT
July 2022 Business & Restaurant Openings
BOYNE RIVER GRILL
201 Water St. | Boyne City | Boyne River Grill Website
This family-owned restaurant opened in April and sources ingredients from local farms whenever possible for dishes like deep-fried cauliflower, smash burgers, garden salads and more. View the full menu on Facebook.
CUTEA BOBA
1525 S. Division St. Ste. 105 | Traverse City | Cutea Boba Website
As of press time, Traverse City's first bubble tea shop was on track to open in June. Bubble tea originated in Taiwan in the '80s and is a tea-based drink with chewy tapioca balls, known as boba.
FRICANO'S
440 River St. | Manistee | Fricano's Website
The Michigan pizza chain is opening its seventh location in downtown Manistee on the Manistee River channel. From the deck, patrons can watch the passing freighters and the sunset over the river.
LIVE WELL ACUPUNCTURE
126 Boardman Ave. STE. D | Traverse City | Live Well Website
Live Well, opened in June, offers dry needling, O3 rejuvenation (ozone therapy), cupping and herbal medicine in addition to acupuncture.
UP SUNRISE COTTAGES
On Farmer Lake | Little Lake | UP Sunrise Cottages Website
These lakefront cottages sit on spring-fed Farm Lake in the town of Little Lake (about 10 minutes from Gwinn and 30 minutes from Marquette). Purchased by the Martin family in 2021, they're excited to offer an Aquapark, brand new playground and a fleet of kayaks, paddleboards, canoes and rowboats.
Photo by Boyne River Grill
Summer Business & Restaurant Openings in Northern Michigan
THE BURROW
12930 S. West Bay Shore Dr. | Traverse City | The Burrow Website
The owners of Mama Lu's and The Flying Noodle are opening a third restaurant in the former Tuscan Bistro space. The Burrow will offer California-inspired to-go food and alcohol to boaters at Elmwood Township Marina via an underground tunnel, along with a dine-in menu. Expected to open in early summer.
COASTLINE CYCLES
1100 Main St. | Frankfort | Coastline Cycles Website
Owners Meg Doby and Ethan Przekaza are offering bike rentals and repair, setting you up to pedal the North (the 22-mile Betsie Valley Trail runs right behind the building!).
Photo by Coastline Cycles
HARBOR CELLAR
300 W. Lake St. | Harbor Springs | Harbor Cellar Website
Located inside Harbor Springs Market, the new 2,000-square-foot cellar has one of the largest wine and spirits selections in Northern Michigan.
STIX
1963 N. Lakeshore Dr. | Ludington | Stix Website
The 1954 restaurant and bowling alley has been completely reconstructed. Now, the two-story building has a mezzanine for private events, an area for live music, an outdoor rooftop known as The Pier, a ground-level beer garden with lawn games and a covered patio with a fireplace.
Photo by Stix Ludington
Spring Business & Restaurant Openings in Northern Michigan
BIRCH TREE BAKERY & CAFE
181 E. Main St. | Harbor Springs | Birch Tree Website
Baker Nicole Hall makes coffee cake, cinnamon rolls, brownies, muffins and more sweet treats along with savory breakfast items like burritos and quiches. But one of her personal faves is the loaded cookie bar, stuffed with Oreos and candy bars.
BUCHAN'S WEST BAY
13000 S. West Bay Shore Dr. | Traverse City | Buchan's Website
The owners of Buchan's Blueberry Hill on Old Mission Peninsula have opened a new ice cream shop in the former Wares Bros Frosty Treat space (Wares Bros' second location on South Airport Road remains open).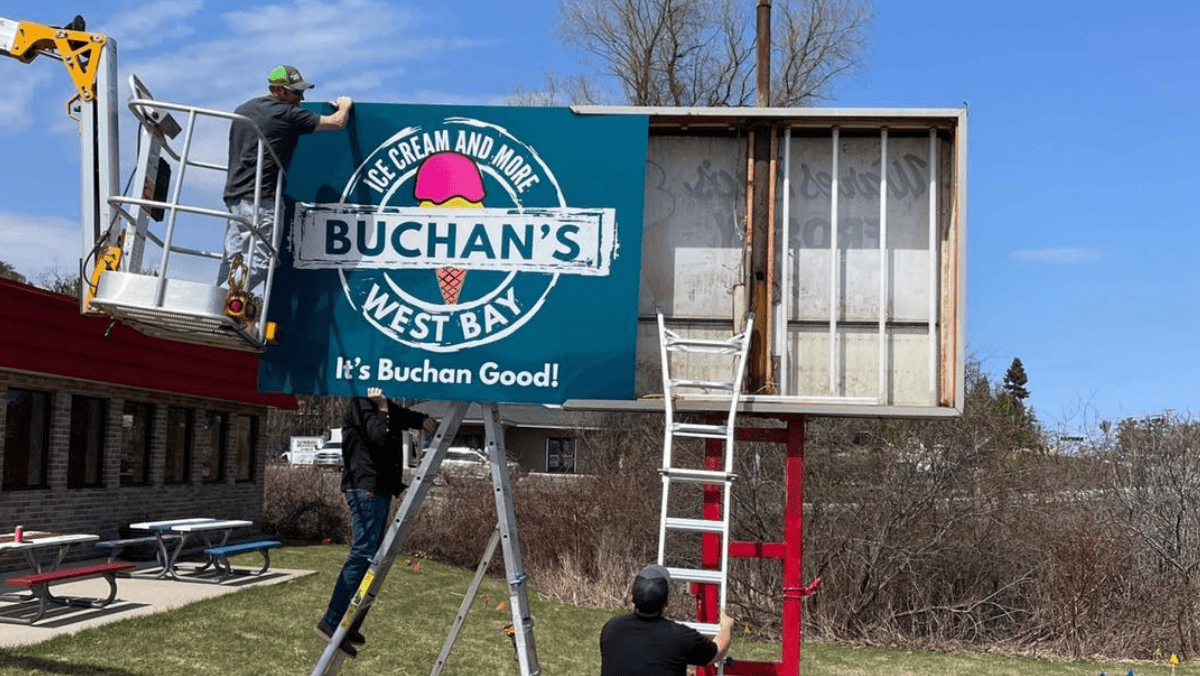 Photo by Buchan's West Bay
DOS ÁRBOLES
735 Main St. | Frankfort | Dos Árboles Website
Located next door to Birch & Maple, and operated by the same owners—sommelier Nick and chef Natalie Crawford—Dos Árboles will be serving tacos and tequila when the restaurant opens this spring.
MUNDOS WEST & MUNDOS 305
720 W. Front St. & 305 W. Front St. | Traverse City | Mundos Website
Mundos Roasting & Co. continues to expand its coffee footprint with two new locations this spring. The West café will have limited indoor seating with a focus on single-origin batch brews and grab-and-go sandwiches. At Mundos 305, find large tables for meetings and a more expansive food and drink menu.
BEAU EST BEAU
220 N. Main St., Cheboygan | Beau est Beau Website
New this winter, the second location of Beau est Beau is a French-inspired tavern with food, wine, live music, open mic night and pop-up events, plus a by appointment hair parlor. (The original location in Traverse City is a salon only.)
COMMON GOOD BAKERY
1115 E. Eighth St., Traverse City | Common Good Website
The much-loved TC bakery is working toward a summer opening of its second location bringing pastries, pizza and sandwiches to the east side of town. (See the sketch for the new location below!)
Photo by Common Good Bakery
L.A.COOL
120 E. Front St., Traverse City | L.A. Cool Website
Find elevated wardrobe essentials for women at this downtown store that opened April 15. Owner Lisa Dykema, whose maiden name is Lisa Anne Cool, is excited to give TC access to designer clothing that's worn by celebrities like Jennifer Aniston and Kaia Gerber. 
MADCAP COFFEE COMPANY
106 N. Main St., Leland | Madcap Website
Grand Rapid's Madcap Coffee is expanding north, taking over the former Blue Boat Coffee in Leland. A late spring opening is expected, and the new shop will be open year-round.
SHEAR CANINE PET SPA
121 Bridge St., Elk Rapids | Shear Canine Website
All breeds are welcome at this pet spa offering dog and cat grooming along with other services for furry friends.
Northern Michigan Winter Restaurant & Business Openings
THE BIG SALAD
332 E. Front St., Traverse City | Big Salad Website
The restaurant opened in October for indoor dining, carryout, curbside pick-up as well as delivery via DoorDash. An outdoor dining area is planned for the spring of 2022. Choose from 40 salad toppings and 30 dressings, plus smoothies, sandwiches, wraps and soups.
BLOSSOM BIRD BUBBLE TEA & BAKERY
128 N. 3rd St., Marquette | Blossom Bird Website
A husband-and-wife team with a
love for anime and pop culture opened the cafe and tiny bakery in August. Serving bubble tea with freshly made boba along with goodies like macarons, mini layer cakes, cream pan buns, cupcakes and more.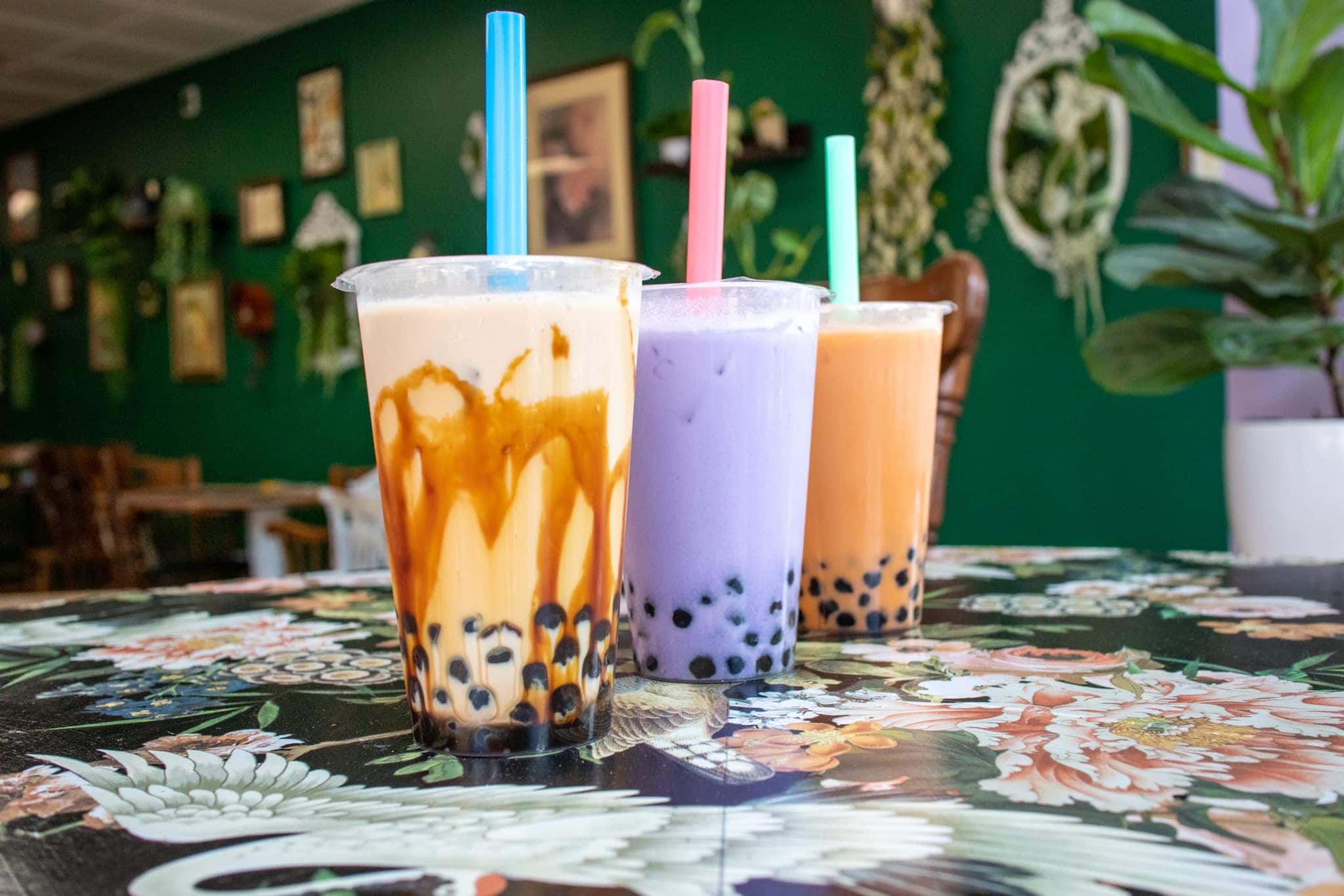 Photo by Blossom Bird Bubble Tea
EVO ATHLETICS
2751 US-31, Traverse City | EVO Athletics Website
TC's newest gym opened in October offering HIIT and yoga classes. The team specializes in sports performance training along with health and wellness education.
FIDDLEHEADS
202 W. Main St., Lake Leelanau | Fiddleheads Website
This eclectic breakfast and sandwich shop serves beer, wine and cocktails. Find the restaurant on Facebook for hours or call 231.994.2121.
OLIVE BRANCH BOUTIQUE
441 E. Front St., Traverse City | Olive Branch Boutique Website
The newest shop opened by the owners of Magnolia Boutique in Cadillac and Rockford, Olive Branch carries women's clothing, accessories, jewelry and more.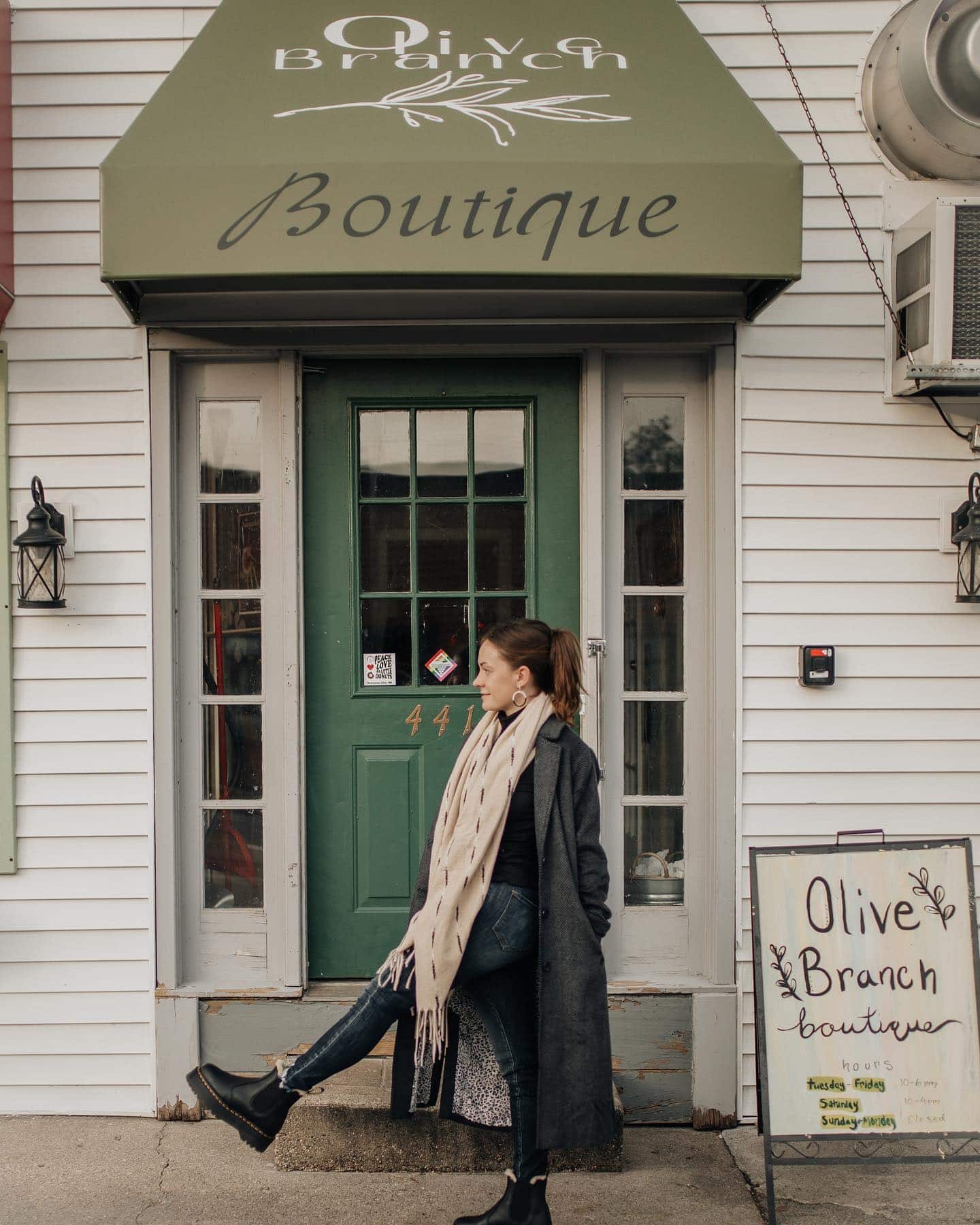 Photo by Olive Branch Boutique
BUZZELLI FOODS
1110 E. Hammond, Traverse City | Buzzelli Website
In addition to freshly made New York-style mozzarella in balls, marinated knots and burrata, this specialty grocery store has grab-and-go options like eggplant parmesan and lasagna along with Italian bowls, gifts, pasta, sweet treats and more.
DHARAMSALA ON FRONT
317B & 319 E. Front St., Traverse City | Dharamsala Website
Dharamsala TC, a yoga studio also offering mediation training and wellness classes, is launching a second location (the first is on Robinwood Court). The space overlooks the Boardman River and Grand Traverse Bay, and the owners are targeting a late January opening.
I'M PLANTY AF
124 S. Union St., Traverse City | Planty Website
My Secret Stash, owned by Karen Hilt, is known for its selection of gifts for all ages from Michigan and American makers, but Karen and her business partner, Garrett Weslock, also have a wide variety of houseplants. Now, they've opened a second store to expand that selection featuring both rare and common species. In the future, Karen plans to have a soil and terrarium bar, potting services, a plant hospital (great idea!) and plant accessories. 
Photo by I'm Planty AF