How to spend a terrific 24 hours in Ludington, including classic attractions and a few places that might not be on your radar.
Bonus Content Below! Did you first see this article in print? Scroll down for 5 more bonus things to do in Ludington, Michigan.
As a longtime visitor turned resident and a former columnist for the Ludington Daily News, I've been lucky to spend years exploring this Northern Michigan city. The stunning Lake Michigan sunsets, pristine beaches, epic salmon fishing and a popular state park make it a fantastic family-friendly destination. Here's my take on the best things to do in Ludington.
First, Get Dinner in Ludington 
After a day on the road, kick off your 24-hour stay with dinner at The Blu Moon. This fusion restaurant offers two menus depending on where you want to sit—the downstairs bistro (with its sushi and cool, open-to-the-outside vibes) or the rooftop deck with a more limited bar-food menu and a striking street view from above. If you're craving a mouth-watering steak or perfectly seared salmon, Timbers Steak and Seafood is known for just that. Satisfy your after-dinner sweet tooth at House of Flavors with its major assortment of ice cream flavors that includes the new Paradise blueberry waffle cone. My personal fave is Eskimo Kisses with coconut ice cream, chocolate truffles, fudge chunks and hot fudge on top. Sweet summer perfection!
Photo by Dave Weidner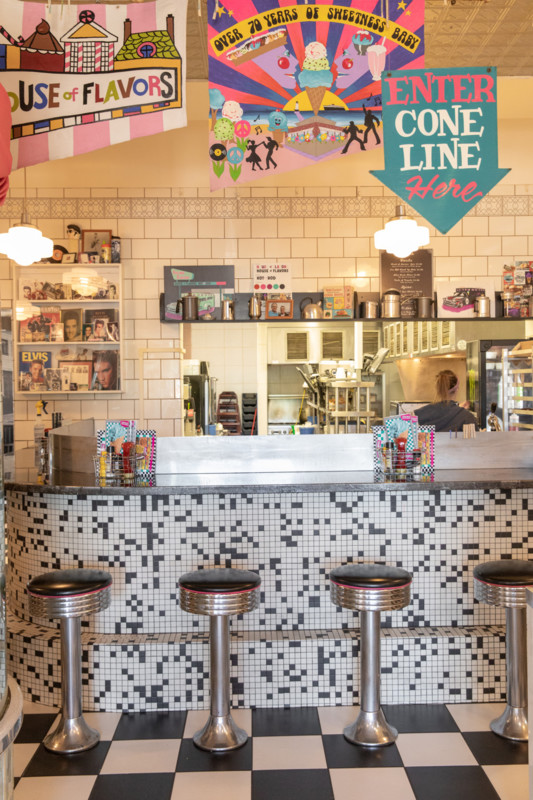 Photo by Dave Weidner
Photo by Dave Weidner
Photo by Dave Weidner
Stay the Night at a Historic Mansion
When it comes to lodging, there are several fabulous choices, but few as charming as Cartier Mansion, a neoclassical-style home turned B&B that was built at the turn of the century. Experienced innkeepers Jenna and Chris Simpler purchased the historic Ludington abode in 2020 and quickly set about realizing an impressive lodging vision. The result is a world-class bed and breakfast with six historic rooms, complete with period antiques and exquisite woodwork, and four modern suites that include heated bathroom floors, climate control and Smart TVs in an adjacent Carriage House. The Edison Suite, named after Thomas Edison, a friend of the mansion's original owners, offers a fully accessible room with an ADA-compliant bathroom, including a roll-in shower and accessible sink. Complimentary bike rentals, beach chairs/towels and afternoon cocktails are just some of the amenities.
Breakfast, Then Beaches!
Once you've savored the mansion's multi-course, gourmet breakfast—think ancient grains with cognac-braised pears or caramelized onion and shallot gruyere strata—head to Stearns Park Beach and walk the pier (one mile roundtrip) to the Ludington North Breakwater Light, voted one of the Top 10 lighthouses to see by the Weather Channel. It's a great place to wave to the S.S. Badger car ferry as it departs on daily trips to Manitowoc, Wisconsin. Climb 53 steps to the top of this 57-foot structure built in 1924 for a great beach view. Or drive/bike to nearby Ludington State Park and hike about two miles each way to the much-photographed, 112-foot Big Sable Point Lighthouse, built in 1867. An $8 donation gets you climbing to the top; $5 for students 17 and under. When you're ready for a post-hike cool down, take a dip in the Lake Michigan surf. Both Stearns Park and Ludington State Park, with its dog-friendly beach, are popular choices. Dogs can also swim at nearby Buttersville Park Beach.
Photo by Taylor Brown
Lunch & Downtown Shopping
Eat lunch outdoors at either Jamesport Brewing Company (the recently added beer garden is great) or STIX—find corn hole, bocce, bowling and more at this family-friendly hangout. Afterward, wrap up your Ludington getaway at downtown shops. Head to Snyder's Shoes for cool footwear. Purchase lovely images of Michigan landscapes at Todd and Brad Reed Photography, and find upscale vintage goods at Maude's Garage.
Photo by Dave Weidner
Bonus Content! 5 More Things to Do in Ludington
1. Book a shoreline cruise aboard the S.S. Badger Lake Michigan Car Ferry. The 6,650-ton, 7-stories-tall vehicle/passenger ferry is a beloved "local celebrity," sporting a fresh paint job. Space is limited so get your tickets early.
2. Enjoy free music at Waterfront Park. On Saturday, August 6, catch the final Rhythm & Dunes event of the season. Food vendors will be available at 5 p.m. and music starts at 6 p.m. Bucket donations support music education for Ludington Schools.
3. August is full of art fairs, beach bonfires, craft fairs, farmers markets, Movies in the Park, the Suds on the Shore craft beer and wine festival and even horse shows. Visit Pure Ludington for the most updated event calendar. If you're in town August 13–14, hit the Gold Coast Artisan Fair at Rotary Park—the yearly event boasts 170 vendors.
4. Explore an accessible state park. Friends of Ludington State Park recently purchased an Action Track Chair (available via reservations) that allows visitors who need hiking assistance to enjoy the park's beaches and trails. They plan to purchase a second one in the fall. The state park also has an accessible playground and an accessible kayak launch.
5. Visit area museums. Ludington is home to two museums—Sandcastles Children's Museum and the Port of Ludington Maritime Museum. Both are perfect for rainy days, or when you need to escape the heat for a few hours.
Judy Winter is the author of "Breakthrough Parenting for Children with Special Needs," co-founder of the Eric "RicStar" Winter Music Therapy Camp at MSU and executive producer of the documentary film "Camp RicStar," now in production. judywinter.com