Local Suttons Bay business owner Chelsey Skowronski and her husband Jason are on the hunt for the perfect starter home in Northern Michigan. After narrowing it down to two options, here's the result of the Poppy Things owner's home hunt! Which one would you choose?
Committed to connecting the Northern Michigan community with responsibly sourced goods, Chelsey Skowronski proudly opened her boutique, Poppy Things, in the heart of Suttons Bay just over two years ago. Her store features everything from jewelry to home decor and art, and Chelsey also sells a selection of eco-focused clothing, linens and accessories from her own line that she designs and sews.
Stepping into Poppy Things is an experience in itself. You're instantly greeted with peach-colored walls, floral boho murals, a thoughtful layout, twinkle lights and more plants than you can count. The shop is, without a doubt, a reflection of this born-and-raised Leelanau County resident.
The majority of Chelsey's adult life has been dedicated to growing Poppy Things, as she first started when she was 18 by selling goods at local farmers' markets and art shows. After dedicating so much time to her business, most recently acquiring the store next door to expand her home decor selection, Chelsey and her husband, Jason, knew it was time to find a starter home for themselves and their two cats, Bella and Baby Kitty, and their dog, Memphis.
Growing up on a centennial farm on Lake Leelanau in Cedar, Chelsey knew she wanted to stay in the area and wanted to live close to water, as she swims every day during the summer.
"You don't realize the connection you make with water until, like me, you move away from the area and find yourself miserable being land-locked," she says. "After having that experience for a year right out of college, I knew I needed to come home. The happiness, way of life and ability to quickly get outside to play after the workday is magical and something you truly can't find elsewhere."
There were a few must-haves on the couple's list, and as you might guess, one was close proximity to water. They also wanted a basement, storage space, an updated kitchen and a large yard that could be set up for Chelsey's gardening. Lastly, they needed to make sure it was close enough to Poppy Things, but also still accessible to Traverse City for Jason's job.
Knowing the realities of a growing business and fast-moving real estate market, Chelsey and Jason were fully prepared for their home hunt to move in slow motion. However, after connecting with real estate agent Kara Gelven at Live Local Realty, this couple quickly narrowed it down to two choices that would make for their perfect starter home.
"I met Kara when I first opened up Poppy Things and she has become a great friend," Chelsey says. "She really fights for her clients and is always scouring the market—you can bet she'll make your contract very appealing. I honestly don't think we could have found our house or beat out the other 10 offers without her."
With the help of Kara, the Skowronskis narrowed it down to these two homes:
Finalist No. 1 | Birch Court
Leelanau County | Asking Price: $259,000
This three-bed, two-bath home was 10 minutes from Chelsey's centennial family farm, close to Good Harbor Beach and had a little yard with garden beds. The kitchen was recently updated and featured new appliances and countertops. The previous homeowners took care of it, however, privacy was a bit of a concern, since it was in a subdivision and had an Airbnb right next door.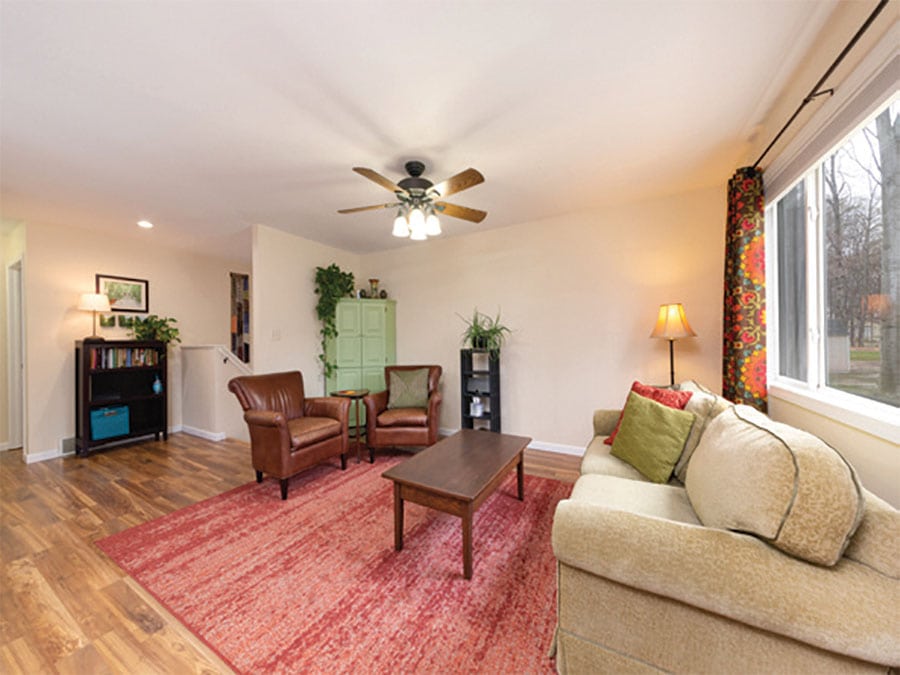 Finalist No. 2 | Bayview Drive
Leelanau County | Asking Price: $325,000
Featuring a fenced-in yard for their dog, a finished basement and an updated kitchen, this four-bed, two-and-a-half-bath home was closer to Jason's job and checked a lot of Chelsey's boxes. While it would max out their budget, there were minimal updates that needed to be made.
What Home Did the Skowronski Family Pick?
Discover which home Chelsey and Jason purchased, and vote for the property you would have chosen here: Finding the Northern Dream Survey.
Rachel Soulliere leads web content and social media for MyNorth. When she's not posting new articles online or working on social media strategy, she's most likely traveling or celebrating Northern Michigan. Follow her adventures on Instagram @rlsoulliere.