There is a route in Leland that I love walking especially in late May when lilacs bloom. A hedge of the showy shrub appears just after a steep hill and I always pause to catch my breath, sticking my nose deep into the fragrant petals for a long, slow inhale.
My love affair with lilacs is nothing new. As a kid, I was so enamored with the peak-season precursor that when I graduated from my crib, I picked out a bedspread with lilacs on it. Ironically, it was during my chapter in New York City's concrete jungle that I learned that these purple petals are edible. While my Tribeca roomies spent their first post-college paychecks on shoes or handbags, I spent mine on cookbooks. One Saturday, I was flipping through Rose Levy Beranbaum's game-changing tome, "The Cake Bible" (Morrow, 1988), and came across a photo for her White Lilac Nostalgia cake. There, dotted across a layer of white chocolate buttercream, were my favorite childhood blooms—crystallized with sugar. How had this foodie never heard that her favorite flower just so happened to also be edible?
This month, as your snowbird friends return North, welcome them home by snipping a few extra lilac branches—some for the vase and some for the glass. Inspired by a lemon drop cocktail, this drink's freshly squeezed citrus lends an acidic backbone while the neutrality of a good, clean vodka lets the fragrant, floral notes of fleeting lilacs shine. Grab a bottle of Lake Leelanau's Ice Dunes vodka, Cedarville's Straights vodka or some other hometown hooch and toast to peak season.
Photo by Dave Weidner
Lilac Squeeze Cocktail Recipe
Serves 1
5 blueberries
2 ounces vodka
1 ounce freshly squeezed lemon juice
1 ounce Lilac Syrup (see recipe below)
1⁄2 ounce orange liqueur
Place ice cubes in a coupe glass to chill it. In the bottom of a shaker, muddle 5 blueberries to release juice from their skins. Add ice, vodka, lemon juice, Lilac Syrup and liqueur to the blueberries and shake until cold and combined. Discard the ice in the coupe and pour contents of the shaker through a cocktail strainer and into the glass. Garnish with a cluster
of fresh lilac flowers and serve.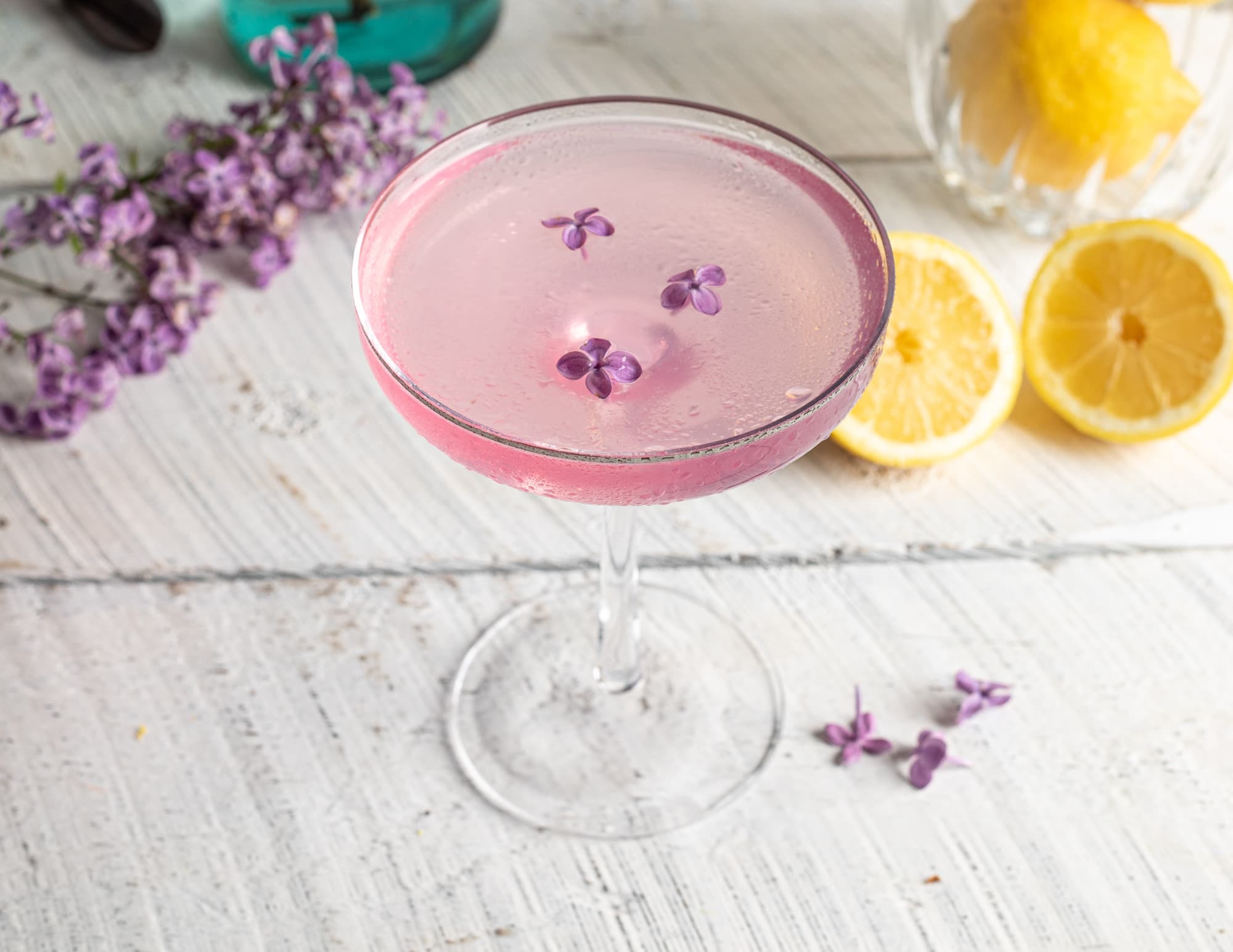 Photo by Dave Weidner
Lilac Syrup Recipe
Makes 8 ounces
1 cup water
1 cup sugar
1 cup fresh lilac flowers, about
3 large stems or thryses
Working over a bowl, pinch the individual lilac flowers off the plant. Much like plucking grapes off a cluster, leave the flower's small green stem behind. In a saucepan over medium-high heat, combine the water and sugar, stirring to dissolve the sugar. As soon as this mixture reaches a boil, reduce the heat to a low simmer and add the flowers, letting them steep while simmering for 3 minutes. Remove the mixture from the heat and let cool. Using a strainer, pour the syrup into a storage container and discard the spent flowers.
Photo by Dave Weidner
Stacey Brugeman is a Leelanau County-based food and beverage writer and editor. Her work has appeared in Food & Wine, Saveur, Travel + Leisure, Eater and Denver's 5280, where she served as restaurant critic. Follow her on Instagram @staceybrugeman.