In August, McLaren celebrated the opening of the Offield Family Pavilion in Petoskey—a $158 million expansion and renovation project focused on increasing patient comfort and privacy, improving wayfinding and enhancing physician and staff workflow. Those goals translated to a four-story, 182,000-square-foot addition that includes 104 private patient rooms, 10 state-of-the-art operating rooms with a sterile processing department, an expanded intensive care unit and new cardiovascular and orthopedic/surgical units.
"With the opening of our new wing, we are the first hospital in the region to have private rooms in all units," says Todd Burch, McLaren Northern Michigan president and CEO. "We know the healing environment is just as important as the care a patient receives. The wing offers a more peaceful, private setting that complements the nationally recognized care provided by our team."
Smart technology also plays a major role in enhancing safety and communication between patients, families and caregivers. In fact, Burch says the Offield Family Pavilion offers the most technologically advanced in-room experience anywhere in the country. "Our patients experience the future of healthcare today right here in Northern Michigan," Burch adds.
So, what does the future look like? Smart i-beds with safety alarms that are customizable for every patient's condition to prevent injury; electronic whiteboards that display McLaren employees' pictures and the care plan, plus provide the patient with verbal and visual safety alerts; bedside tablets with mobile apps for entertainment and health education that also connect to the patient's call light, video chat camera, TV and web; a virtual nurse, available via the TV, who assists patients at the touch of a button; Smart Badges, worn by care team members, that are a hands-free way to connect patients to staff for immediate response; and operating room suites equipped with the latest 4K resolution technology—four times the resolution of high definition—to provide surgeons superior image detail and video streaming to collaborate with experts around the globe in real-time during surgery.
Photo by McLaren Northern Michigan
One of the more visual elements of the expansion is the added artwork. More than 3,000 studies conducted over the past several decades have revealed the positive impact of art on health and well-being, such as measurable changes in blood pressure, heart rate, muscle tension, respiration rate, cortisol levels and brain activity, explains Capital Campaign Officer Patricia Jones. The Offield Family Pavilion is decorated with more than 200 pieces from nearly 100 Michigan artists, many from Northern Michigan. McLaren worked with an art consultant who is certified in evidence-based design and who works exclusively within the health care industry to select pieces for their therapeutic properties that serve as a visual comfort to patients and families. McLaren also partnered with regional organizations, including Crooked Tree Arts Center and the Northwest Michigan Arts and Culture Network, who helped to broadcast the call for artists. "Along with the smart room technology, we have created an environment of healing with the use of art, coordinated color schemes and large, open common areas," says Vice President of Operations Shari Schult, who oversaw the expansion.
In addition, more parking was added by the new main entrance, now off Jackson Street. There is improved wayfinding with letter and color-coded signs that start from the parking lot and guide people to the right entrances and elevators.
And there's even more to come in 2023. The final phase of the construction project is the renovation of 70,000 square feet of existing hospital space that includes the surgery waiting area, pre-and post-operative areas, lab, pharmacy, community education room and the radiology waiting room. Special patient hallways and elevators will also be created for private patient transportation.
The wing is named the "Offield Family Pavilion" after a lead donation from the Offield Family Foundation, spearheaded by Harbor Springs residents and capital campaign co-chairs Jim and Sujo Offield.
"My grandfather was one of the hospital's original founders and my father served on the hospital board for many years," Jim Offield says. "Providing the best hospital services for this community is a way for our family to give back to an area that has given our family six generations of memories. Our family has utilized every service the hospital offers, from birth to death. My own life was saved there. With a history of providing exceptional health care for an exceptional community, our family is proud to be in partnership with McLaren."
Another key donation was made by Martin and Lisa Sutter. McLaren named the north surgery entrance the Martin and Lisa Sutter North Pavilion Entrance in their honor. In total, 1,500-plus individuals and organizations donated more than $38 million.
"One of the truly great things about this project is that it shows what a community can accomplish with great physicians, highly trained staff, excellent governance, an amazing foundation and our generous donors all working together," Burch says. "Generosity and commitment helped build this new wing, and generosity and commitment will sustain it."
View a video tour of the Offield Family Pavilion on McLaren Northern Michigan's YouTube channel.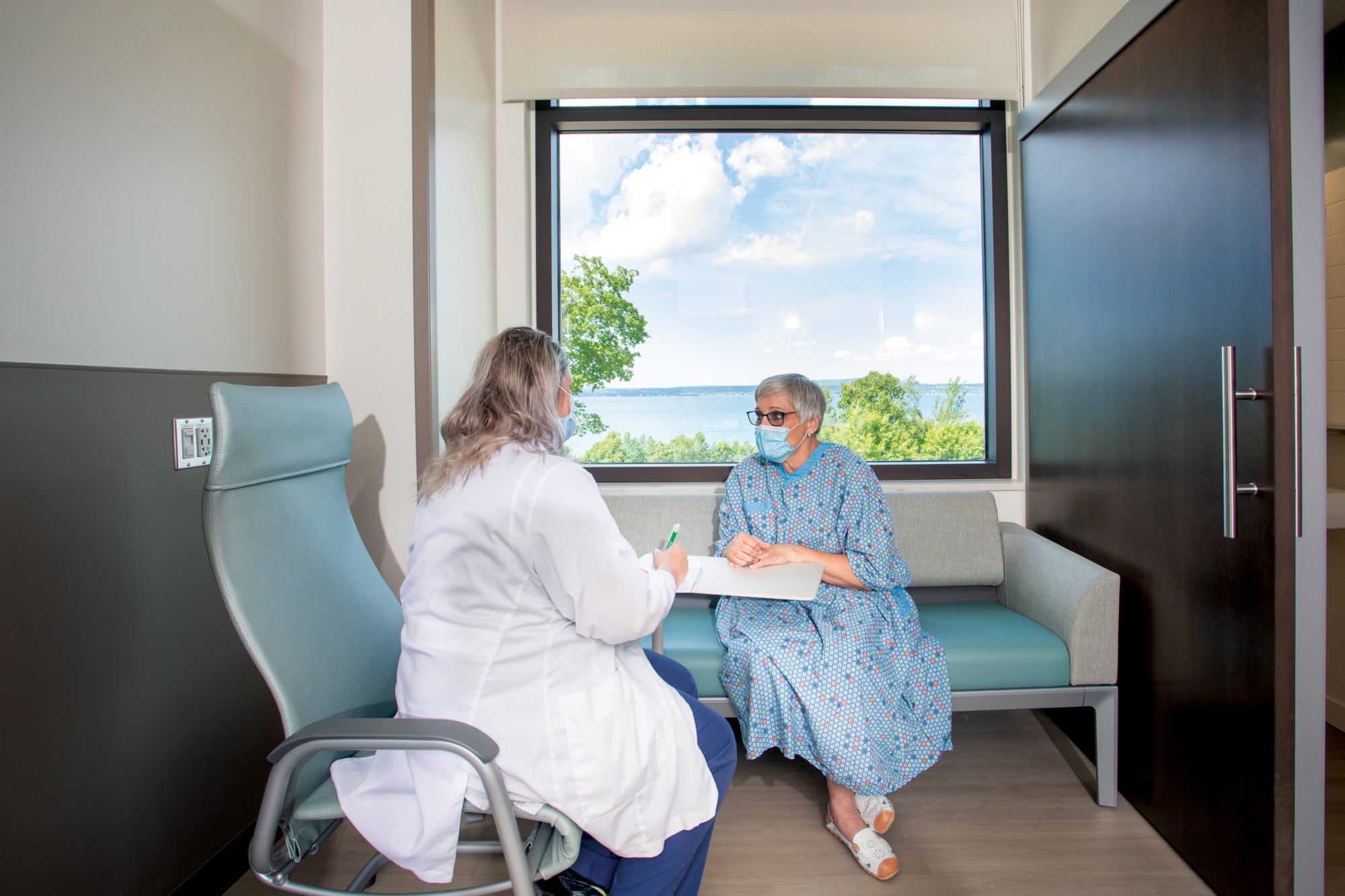 Photo by McLaren Northern Michigan
Photo by McLaren Northern Michigan