The National Cherry Festival—this year on its 96th annual bash—sets out with one guiding goal in mind: help the cherry industry keep thriving.
Nita Send knows she'll encounter just a small percentage of the half-million people who visit the National Cherry Festival each July. But it doesn't bother her a bit.
The Leelanau County cherry farmer says she loves sitting inside the festival's industry tent, interacting with whoever pops in. As the festival's director of cherry promotion, it's her job to be a liaison between the festival and growers and also to answer questions from visitors from around the world who might want a new cherry recipe. She'll patiently explain whether cherries grow on bushes or trees, or maybe what eating the healthy tart cherry might help to cure.
Nita knows that if a festival-goer has a good experience—whether while riding the Tilt-a-Whirl, listening to Boys II Men, watching the U.S. Navy Blue Angels or learning of the powers of the superfruit—they might later seek out cherries or foods infused with them.
"The festival gives us so much free exposure and advertising," she says. "The first time my husband (Jeff) went to the pre-festival dinner and looked around at what seemed to be a couple of thousand volunteers, he said, 'I feel like all of these people are working on my behalf!' It's quite moving."
Photo by National Cherry Festival
Photo by National Cherry Festival
The annual National Cherry Festival has focused, at its core, on promoting the nation's cherry industry since 1925, with a special focus on the Traverse City region. That year it was called the Blessing of the Blossoms, and local clergy uttered prayers for a bountiful harvest from atop a 40-foot tower on Old Mission Peninsula. Inaugural National Cherry Queen Gertrude Brown was selected when her name was pulled from a hat.
The following year, a local bakery made a cherry pie so big it had to be loaded through the windshield into the back seat to be presented to President Calvin Coolidge, says Bailey Judson, the festival's creative director. In 1940, then-President Herbert Hoover attended the festival's opening ceremonies.
The festival continued to grow and evolve with new offerings of fun right alongside the industry, so that, today, festival visitors who fly in through Cherry Capital Airport do so over a good percentage of Michigan's 800,000 cherry trees. The five-county region centered around the festival grounds, in Traverse City, produces almost half of the country's crop of tart cherries and 83 percent of Michigan-grown sweets.
But the festival doesn't just celebrate that fruit; it also helps to continually create markets and demand, says Phil Korson, long-time CEO of the Cherry Marketing Institute and owner of a Leelanau County farm himself. It was Korson who spearheaded the research, then promotion, of the cherry as a fruit with multiple health benefits. The festival and marketing institute have been "joined at the hip" in promoting that, he says, with the festival adding complimentary events like running races and inviting cherry industry representatives to hand out samples of dried cherries and juice.
Photo by National Cherry Festival
In recent years, there's been a national (and festival) emphasis on exploring food and flavors—people wanting to put cherries in food in new ways, Judson adds. This year, look for an increased expansion in cherry selections from jam and pies to foods like cherry-flavored potato chips and barbeque sauce, cherry taffy, cherry peanut butter, hot sauce and more.
What seems to never change is that the cherry is a fun food, making it a perfect centerpiece for a massive annual celebration.
"Whether you're a kid or adult, they bring a smile to the face right away," Korson says of cherries. "To me, the festival in July throws a big party. They reach out to tourists and anybody in the region and promote the region and industry as one. There's a parade almost every night, entertainment at the Open Space, activities throughout the area, like a research farm tour. It's educational but geared toward people when they're on vacation. I think that's what has always helped to create the image we really wanted. Cherries are healthy for you, and they're fun. To me, it's the cherry on the top."
Photo by National Cherry Festival
In The Beginning | Local Cherry Farming History
The Rev. Peter Dougherty is credited with planting the region's first cherry tree. The Presbyterian pastor and botany enthusiast went straight from the Princeton Theological Seminary to the then-wilderness of Old Mission Peninsula. In 1838, he pulled up his small boat to an Odawa community of wooden wigwams. He'd been invited by the local chief to move his mission from its previous location in Elk Rapids to help with the education of children, teaching of the Bible and to help develop already productive gardens, orchards and maple sugaring operations.
In 1852, after Native Americans became eligible for Michigan state citizenship that allowed them to purchase land for settlement, Dougherty followed the tribe across the bay to Omena. There, as in much of Leelanau County, land had been provisionally set aside for Indian reservations, so they opted to uproot their established farming and other operations to go to a place allowing them as citizens to purchase settlement land.
Once there—according to documents at the Leelanau County Historical Museum—Dougherty planted the first cherry tree. There's even more documentation about the way another missionary, Congregational pastor Rev. George Smith cultivated the cherry. In 1853, Smith planted eight cherry trees in Northport (then called Waukazooville after the Odawa chief Smith supported), and the orchard was so successful that the secretary of the State Board of Agriculture said when visiting in 1863 that Smith's trees were "handsomely set to fruit" with the trees appearing healthy.
"No reason appears why cherries could not succeed over nearly the whole of the Grand Traverse region," the secretary's report added. "The comparative mildness and uniform temperature of the winter, together with the generally porous nature of the soil, may be regarded as favorable to the finer kinds of this fruit, or the so-called heart cherries."
According to an agricultural history of Sleeping Bear Dunes National Lakeshore published by the National Park Service, D.H. Day was the first large-scale cherry farmer, planting more than 3,000 cherry trees in 1881, and another commercial-scale planting followed 12 years later at Ridgewood Farm on Old Mission. By the turn of the century, historians wrote, the cherry "took off like a skyrocket" with 200,000 acres planted in 1909 alone and large processing operations following.
Photo by National Cherry Festival
Photo by National Cherry Festival
Where Cherries Rule
Today, the region is a true cherry kingdom, and cherry farmer Angela Sayler was once its queen.
The 2011 National Cherry Queen who now heads the festival's National Queen Program says she loves both farming and the festival's long tradition of the queen and her court. She loved the way kids flocked around her, in awe of the crown, asking questions like whether she was a "real princess" but then listening closely to all she had to say about the cherry and how it grows so well in the region around them.
Sayler also won the 2011 women's cherry pit spit—even making the cover of the Washington Post with her winning attempt—noting she had an advantage having sampled cherries in her parents' orchard since she could walk. Most importantly, she drew on her cherry knowledge to represent the festival at farm and orchard shows and even the Tournament of Roses Parade. As she and her sisters (one, another former cherry queen), keep the farm thriving into generation seven, she says she appreciates, even more, the way the farm's fruits are celebrated at the fest.
"I know I have a huge sense of pride knowing the fruit we grow reaches so many people, whether it's in pie or dried cherries," Sayler said. "You can't deny the explosion of flavor when you eat this beautiful fruit, and it comes from Traverse City. It's locally grown. We promote cherries nationally, but it's pretty cool that our local farmers are growing this claim to fame."
Festival-goers were able to make a pie along with last year's cherry queen, from the middle of an orchard, through Facebook Live. They also can tour a working orchard at the Northwest Michigan Horticultural Research Center in Leelanau County. There, through educational displays and a wagon ride through a working orchard, visitors learn the difference between tart cherries (the ones with the researched health benefits, also used in cooking and smoothies) and sweets—those tastily sampled straight from the tree. They also see how new varieties of cherries are bred; the orchard might have 60 varieties or clones of tart cherries alone, maybe 300 varieties of sweets, all being studied for various ways they might help the industry.
Photo by National Cherry Festival
One goal is to find varieties resistant to pests and changing climate, says Bill Klein, research manager at the Northwest Michigan Horticultural Research Center. Another might be creating a cherry for a particular food market, whether it's a maraschino that's small and uniform enough to be sold in a jar or one that's sweet and large and has nice deep purple color.
For two of the past growing years, early frost damaged the region's crop, and competition by imports have offset many of the gains in demand for the fruit, Nita Send notes. To better compete, she and her husband, Jeff, have taken on a partner and expanded their farm to 800 acres, spread well beyond the boundaries of the century-old farm on which Jeff grew up. But cherry farming is as much a rewarding lifestyle as a livelihood, says Nita.
"You're just so connected to the land and weather and seasons," she says. "Your whole life revolves around it."
And while this year's festival will fall, as it always does, at a particularly busy time near harvest, she's making time to staff her tent with a smile and a ready answer to whatever question comes her way.
"We help each other so much," she says of the annual event. "The cherry industry could exist without the festival, but it wouldn't be what it is."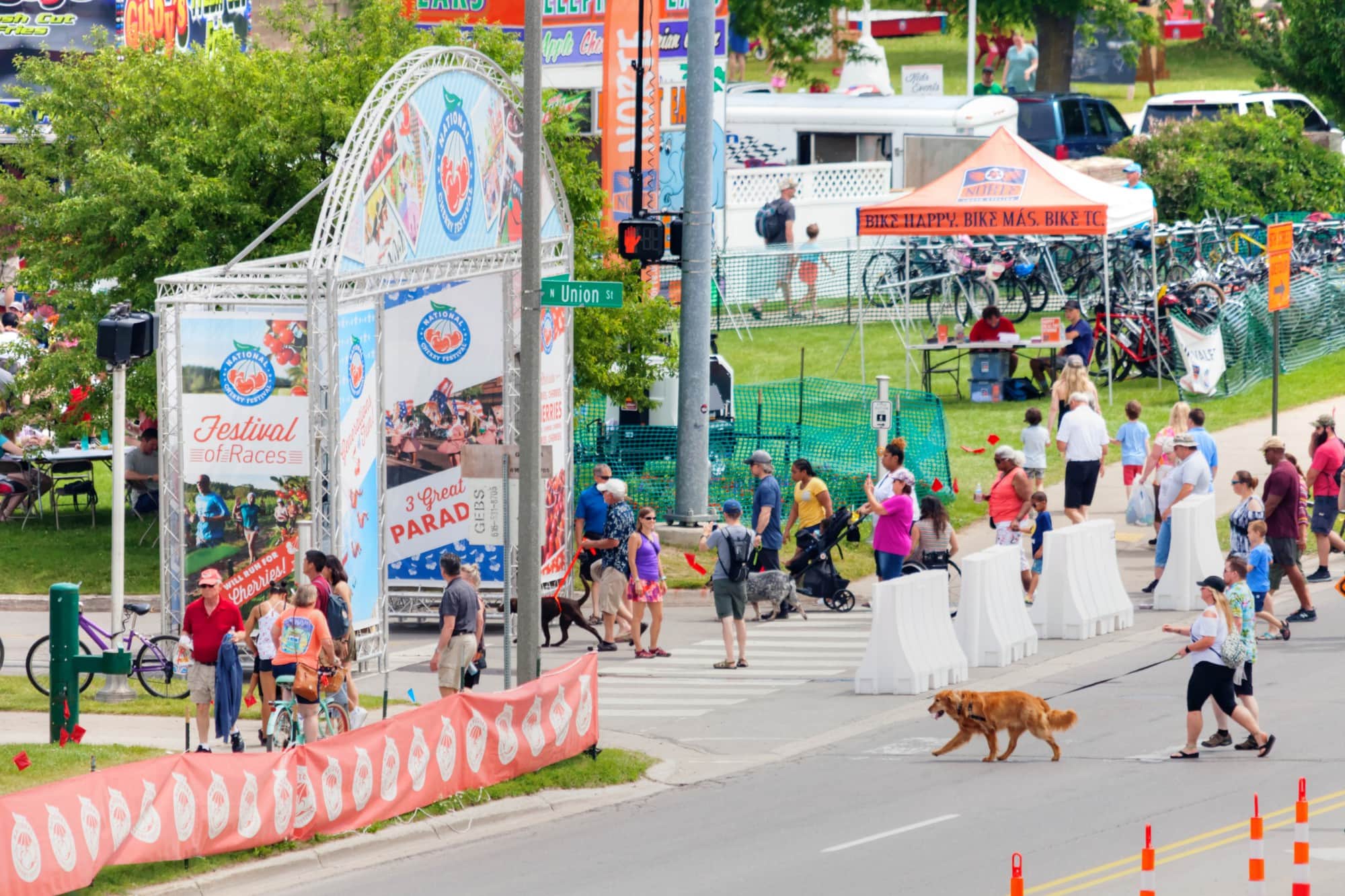 Photo by National Cherry Festival