From a slow, quiet trek in the woods to a heart-pumping climb atop a bluff, exploring the season's sparkling white landscapes by snowshoe is an ideal way to embrace winter Up North. Here are three of our favorite Northern Michigan outdoor adventures by snowshoe to keep in your back pocket for the next snow day… or this weekend!
Adventure #1 | Bigfoot Snowshoe 10K & 5K
Walk or run this month's Bigfoot Snowshoe 10K & 5K, taking place Jan. 29 on the east side of Traverse City. Beginner-friendly and incredibly fun, this race usually attracts about 500 people to Timber Ridge RV & Recreation Resort, which is next to the popular Vasa Pathway. Enjoy the festive and friendly race atmosphere and post-race celebra- tions (hot chili at the finish!).
Make it a weekend: Timber Ridge Resort offers all-season lodging and special packages. A lodging special from Grand Traverse Resort & Spa is also available for Bigfoot participants at runsnow.com. From either spot you're just 10-15 minutes from downtown; spend an afternoon perusing the city's myriad locally-owned shops or take a decidedly quieter beach stroll along West Bay at the Open Space.
Photo by Heather Johnson Durocher
Adventure #2 | Snowshoe at Grass River Natural Area
Head to the serene hiking trails weaving through the 1,325-acre wetland preserve known as Grass River Natural Area in Bellaire. The nearly eight miles of trails are open every day, dawn to dusk, and come winter are ideal for hiking, snowshoeing and cross-country skiing. Guided walks can be arranged. In addition, a naturalist is on hand at the Grass River Education Center, which is open weekends throughout winter and features a gift shop with proceeds benefiting the natural area's educational programs. This area is brimming with wildlife, including rare and endangered species.
Make it a weekend away: Nearby, the villages of Bellaire and Alden—and crystal-clear Torch Lake—are home to great restaurants and eclectic shops. Book your stay in one of the area's quaint Airbnbs, or find lodging at Shanty Creek Resort, which features different lodging and dining options within its four distinct villages—Cedar River, Schuss, Summit and Hawk's Eye. And if you're feeling up for even more outdoor exploring, whether by snowshoe or fat bike, look no farther than Glacial Hills Pathway and Natural Area, a 765-acre natural area in Bellaire offering more than 30 miles of trails. Glacial Hills Pathway is accessible via three trailheads: Eckhardt Road, Vandermark Road and Orchard Hill Road. 
Photo by Heather Johnson Durocher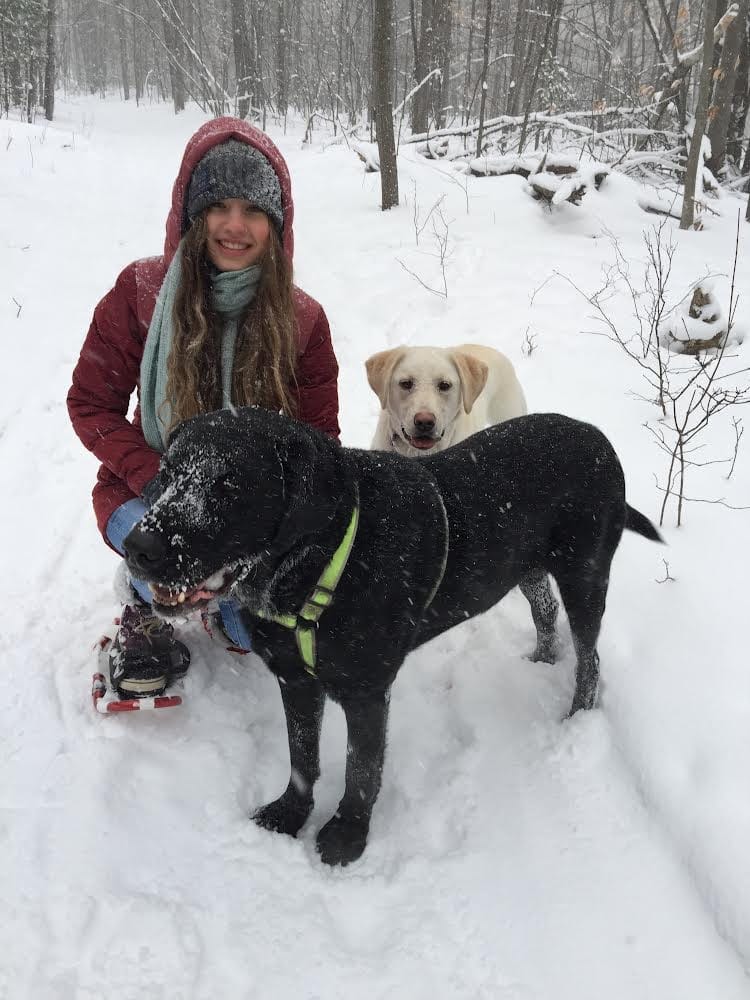 Photo by Heather Johnson Durocher
Adventure #2: Snowshoeing Tahquamenon Falls State Park
Lantern-lit and daytime guided snowshoe hikes at Tahquamenon Falls State Park near Paradise take place throughout mid-winter, starting Feb. 5. At 2 p.m. on the 5th, strap on your snowshoes and take a free guided hike through the forests of the Upper Falls. Learn about winter at the park and get some snowshoeing tips and tricks. A limited number of snowshoes are available to borrow (first come, first served). The lantern-lit hike, also taking place at the Upper Falls, is from 6 to 8:30 p.m. on a one-mile trail lit by more than 70 kerosene lanterns. Bring a headlamp and enjoy refreshments by the bonfire between laps.
Make it a weekend: Book a stay at Tahquamenon Suites Lodging, located 10 minutes from the state park and Whitefish Point. Or, if you're feeling especially adventurous, take part in the Michigan Department of Natural Resources' Roadtrek Winter Camping Weekend, Jan. 6–8. More than 30 Roadtrek vans will be at the Lower Falls Hemlock Campground. Whether you have your own Roadtrek vehicle, an RV or a tent, you're welcome to make reservations for this weekend, which features free snowshoe rentals and nightly bonfires. Camping reservations are required. Visit the Tahquamenon Falls State Park Facebook page for the latest event information.
Photo by Heather Johnson Durocher
Heather Johnson Durocher writes from Traverse City, where she lives with her husband, Joe, and their three kids. She is the founder of the travel and active lifestyle site MichiganRunnerGirl.com and also hosts a weekly podcast.