There are sheets, sheets, of corduroy up every alley; swaths of untold beauty unfolding on cross-country ski trails that cut through snow-capped pines. I don't mean to exaggerate, but the corduroy is literally as far as I can see: Smooth, pencil-thin, parallel lines, one after another, marching across the landscape, curving and dipping out of sight into the forest.
We are at Forbush Corner Nordic Ski Center in Frederic. I've lived in Michigan my whole life, and I have only known Frederic as someplace on the way to somewhere else, a cut-across, in the upper reaches of the Lower Peninsula. I hadn't realized, truth be told, that Frederic had anything in it. That sounds bad, doesn't it?
Photo by Beth Price
"Don't worry," says Ann Wagar, "People 20 minutes away, up the road in Gaylord, haven't even heard of us!" Ann is the treasurer of the five-person board that now runs Forbush. (She says she's actually in charge of a lot of things; they all are.) But anyone who loves Nordic skiing has paid the price for the lost opportunity of not knowing Forbush Corner.
This nonprofit, volunteer-run gem would steal any cross-country skier's heart. Because it's not just any groomed trail system with a whopping 25 km of trails—it also has a dedicated 2 km loop that they make snow for from November through as late as April (for real, this is a big deal, ask your skier friends). Their 2 km "figure eight" trail is groomed with fresh snow and ready to go, as long as it's cold enough to turn on the "snow sticks"—more on that later.
These snow-making abilities— made possible with a $1.2 million donation in 2019—mean that Forbush is able to open earlier and stay open later in the season than most resorts in Michigan. It also makes Forbush a very dependable choice for a ski weekend getaway, even if it's not snowing.
We stop in to the pro shop to get ski passes and to rent classic cross-country skis for our two sons. My husband and I get our own cross-country skate ski boots on as we perch on an old wooden bench. We both love to ski; the boys are wondering what they've been talked into.
Before we hit the trails, I chat with Ginnis (yes, that's the only name she goes by, pronounced like the beer) at the front counter.
"You're going to LOVE it," she says. "Go have fun!" She gives us a map and tips on where to head first. (The snowmaking loop!)
Before we leave, I visit a tiny little restroom that's just big enough to get in and get out of. I feel like I'm in someone's old farmhouse. And I learn that, actually, I am.
Photo by Beth Price
The Ski Center (That Was Once a Farm)
"Our pro shop used to be the farmhouse that Dave would stay in sometimes when he came home to visit his family," Ann says.
Dave Forbush is the reason that Forbush exists today.
Forbush Corner—at the intersection of Co. Rd. 612 and Roberts Road just off Exit 264 on I-75—was a local landmark, recognizing that the Forbush family had been there for many generations. Dave's great-great-grandparents were caretakers all the way back to the late 1800s for the acres and acres of apple trees owned by Ward Orchards.
Over the years, Ward Orchards was sold off in chunks, but Dave's grandparents held on to part of the homestead to build on after the orchard closed. Dave's parents also eventually built a house on the property, and Dave, a large animal vet for the State of Michigan, would come home to help his parents as they aged.
Dave started making ski trails on the property and invited his friends to join him in the winter. They all bunked in the old farmhouse—in what is now the pro shop.
"There were nine bunks … nine guys hanging out, drinking and skiing," Ann says with a laugh.
As the years went by, Dave made a point of planting pine trees every year on the property. Now, some 40 years later, his forethought has turned the old dying orchard into a beautiful forest. A few apple trees still remain on the property, and Ann says friends come picking to make pies every year to share, a nod to the past.
In the mid-1980s, Dave transformed Forbush Corner into a part-time cross-country ski facility. When he retired in 1995, he moved back and ran the business full-time. Over the years, Forbush Corner blossomed into 200 acres—the Forbush family's 100 acres, plus an additional 100 acres leased from the state. After his parents passed away, Dave moved into their home and turned the bunkhouse into the pro shop.
As time passed, Dave wanted to ensure that Forbush would carry on for future generations. He chose five friends to form a trust to run the ski facility, not knowing that in a few short years, it would be necessary. Dave passed away from pancreatic cancer in 2014. The business was then turned into a nonprofit in 2019 as they pursued additional funding avenues for growth.
"Everyone loved Dave," Ann says. "He re- membered everybody and their story. It didn't matter how many times you came up to ski. Even once, he would remember you."
Since the devastating loss of Dave, the team at Forbush has found ways to keep his memory alive. On New Year's Eve, they have a champagne toast on Oz's Overlook, a hill on the ski trail where Dave's ashes are spread, along with those of his beloved dog, Glinda. (Look for the trail named after her: Glinda's Glide.) And every March, Forbush has their annual "Founder's Day" when they offer free skiing— they pick a date near Dave's birthday. This year, it will be March 13, 2022.
"We are looking forward to the new season," Ann says. "Most of the people who come are from southeast Michigan and Ohio or Indiana, and stay in Grayling or Gaylord." (Head to the bottom of this story for tips on staying in Gaylord).
Photo by Beth Price
Photo by Beth Price
Photo by Beth Price
The Bully (That Everyone Loves)
The five friends who run the facility all work together for the bigger picture. Ann says, with a laugh, that none of them expected to be in charge. Nowadays, everyone pitches in with their own expertise. Howard Hansen is the president of the board and handles most of the legal end of things, as well as materials and project management. Ann handles paperwork, managing the shop and the books. The other three members—Larry Damic, Mario Kennedy and Todd Hubbard—pitch in on maintenance and more, including running the groomers.
And now, they have a new toy: a PistenBully100 groomer, made possible by a capital campaign and generous donors. "The new machine is a real game-changer," Larry says. "It saves us hours of grooming the trails and moving and leveling the man-made snow piles."
The big rig has made all the difference in getting the most out of the world-class snowmaking equipment For- bush installed two years ago—the only one of its kind in the United States at the time it was installed.
The snow-making equipment project included building a 2-million-gallon pond on-site to pump water from and an underground piping system. The system feeds the 41 above-ground "snow sticks"—dozens of thin, white sticks that shoot snow onto the "snowmaking" trail. The system is the same as those used in several winter Olym- pics venues and runs 10 gallons of water per minute through each stick; the colder the temps, the more snow is produced.
"On a cold night, we can have 8- to 10-foot piles at each stick," Ann says. "If it's warmer, the piles are half that size."
Photo by Beth Price
Our Day at Forbush
The day we ski at Forbush, it's 10 a.m. on a Friday, and we are almost alone on the trails. It feels a little like our own special paradise. Forbush sees anywhere from 100 to 200 people a day on a typical weekend. We have squeezed in just before the rush.
With towering pines and rolling hills, the kids and I head for the "Snowmaking Loop," as Ginnis advised. The 2 km loop is the most impressive trail of all, running 30 feet wide with two lanes, one in each direction. There are classic tracks cut into each side, with the middle swath open for skate skiers. The broad berth makes it comfortable for all types of skiers. Young families can practice on it, with plenty of space to try and try again, while racers can dig in and use the large lane to navigate around others on the trail with ease. Snowshoers have their own trails, about 7 km worth, to explore elsewhere on the property.
We simply can't get over the Snowmaking Loop's vast perfection. Once completed, the boys and I decide to tackle more and head over to the Badlands trail, eventually sailing down through Dave's Valley. In the meantime, my husband skate skis every trail out there; he loves it. His favorite? Rollercoaster, one of the original trails that Dave built on his own, back in the day.
Once we all meet up again, we check the map and decide to head back together; it's lunchtime. The last trail is an awesome downhill dubbed "Homerun Hill." It's a fun, wide-open rip right back to the parking lot and the yurt. Yes, the yurt.
The yurt is another new addition, a roundabout benefit of COVID. With additional grant funding, Forbush was able to erect the funky and fun-looking yurt to provide a larger, socially-distanced warming area for skiers. Snacks and warm drinks are also offered.
The 2021-22 season at Forbush promises to have a few new goodies: They are working on a new section of snowshoe trail, raising money for a possible land addition of 80 neighboring acres, and are working on the yurt's finishing touches.
Our Forbush Corner outing ends in satisfaction. The sun is shining, and the family has actually accomplished a day together with no squabbles. We gather all the gear back into the car and head home, about two hours away. I love that we have found a new place to ski, but I love even more that we made memories on a gorgeous winter morning, together.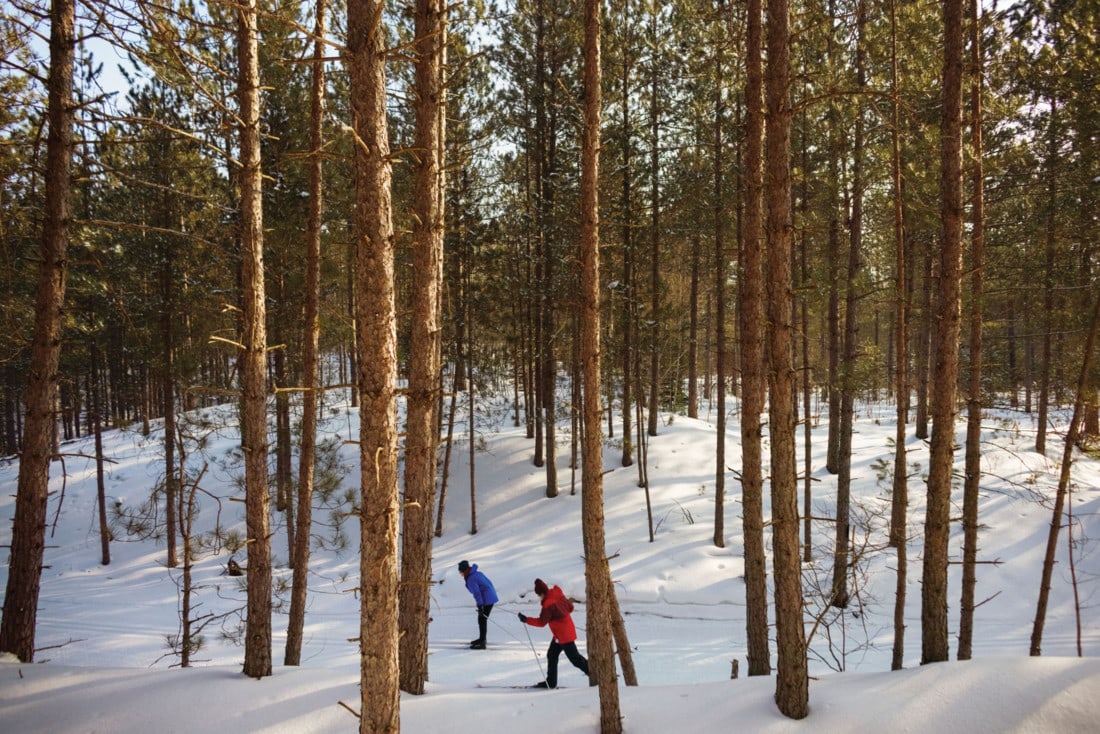 Photo by Beth Price
Spend the Weekend in Gaylord
Just 20 minutes north of Forbush, Gaylord offers a hive of activity. Combine your serene skiing weekend with the bustle of this well-loved Northern Michigan town. Here, a few places to eat, drink, sleep and play.
PRE-SKI: Arlene's Diner gets the breakfast vote from locals. Try their Polish Skillet: three eggs scrambled with kielbasa and onion served on a bed of pan fries topped with cheddar cheese. The Cinnamon Grilled Bread is a must-try for those with a sweet tooth. They serve breakfast all day.
POST-SKI: The Pine Squirrel Bar & Grill has big booming wooden rafters and pool tables that give a cozy post-ski warm-up feel. Try their Squirrely Burger—lettuce, tomato, onion, provolone and American cheese, bacon, ham and onion rings topped with squirrel sauce. Toast with a "Super Squirrel" mixed drink of vodka, blue curacao and razzmatazz!
BREWS: Gaylord boasts an impressive Craft Beer & Tap Trail featuring 31 stops. One favorite, with a name befitting of winter, is Snowbelt Brewing Co. Try their Brick Wall Cider if you "hit the wall" skiing!
LODGING: Head to Waters Inn, eight miles south of Gaylord and close to Forbush, if you want what their website calls the "The Peaceful Alternative." This might be the perfect place to catch a restful night's sleep after the Rollercoaster trail at Forbush. Rooms are rustic knotty pine with gorgeous quilted bedspreads, and they have a snowcam on their website to give you a look at the conditions before your arrival. Otsego Resort is the choice if you want lots of activities. Enjoy another kind of skiing here—downhill—as well as snowboarding and tubing. It's a snow lover's paradise with on-site dining and lodging, too. Book a "Loft Lodge" to thrill the kids: there are four twin beds and a loft
for the kids to play in.
Photo by Beth Price
Visit forbushcorner.com for seasonal hours, rates and a map to this little-known Michigan gem.
Kandace Chapple is a freelance writer and founder of the Michigan Girl Bike Club (which is a Snowshoe Club in the winter!). She can be reached at kandacechapple.com.
Beth Price is an editorial and commercial photographer based in Northern Michigan. It's here where she finds much inspiration in the color palette and light that falls throughout the changing seasons. She's passionate about capturing authentic human experiences that help achieve a greater appreciation for the natural world we live in.