Traverse, Northern Michigan's Magazine, has been on the hunt for must-try food finds, local cookbooks and artisan, made-in-Northern-Michigan kitchen wares for decades. Now, in print each month, our editors feature these delicious small bites and home items in "The Culinary North" dining department. Watch as this tasty list grows online, and get ready to take a road trip to find these special Northern Michigan foods and products.
December's Bite: The Queens Head Wine Pub Smoked Trout Chowder
On a brisk December day, settle into a leather armchair by the fireplace at
The Queens Head Wine Pub
in
Cheboygan
. The charming building, wonderfully original name and relaxed atmosphere make it feel like an English pub (John Costin, who owns The Queens Head with his wife, Marcella, is in fact from London). Now, order a bowl of smoked trout chowder. It's the definition of comfort food— warm, hearty, absolutely delicious—and the trout is sourced locally from Big Stone Bay Fishery in Mackinaw City. Pair it with a pint, or find a bottle to share from the wine cellar. Cheers!
Located at 250 N. Huron St. in Cheboygan | View The Queens Head Wine Pub Website
Photo by The Queens Head Wine Pub
November's Bite: Grandma Tillie's Gourmet Cinnamon Rolls
My friends, you're in for a treat. I first experienced
Tillie's Tafel
in August. I was strolling through the
Petoskey
Farmers Market, saw their stand and beelined over to the table stacked high with massive sweet rolls. They had been on my must-try list for months. And they didn't disappoint. Absolutely loaded with cinnamon, gooey in all the right ways and topped with a very generous slather of cream cheese frosting—perfection. The recipe has been passed down from generation to generation for the past 100 years, first made by Grandma Matilda Dewes (Tillie).
Stop by the brick-and-mortar café (early, they often sell out), at 437 E. Mitchell St. in Petoskey and order the family four-pack. Or, have them delivered. To order online, select "menu" then "shipping items."
Related Read: 30 Best Things Near Petoskey & Harbor Springs (Wine, Hotel, More!)

Photo by Tillie's Tafel
Photo by Tillie's Tafel
October's Bite: Apple Dumplings from Frankfort's Crescent Bakery
When fall rolls around, Adreon Kiplinger has just one wish: Please, oh, please don't let the apple dumplings sell out. Adreon owns
Crescent Bakery
in
Frankfort
with his wife, Heather, and their apple dumplings are his favorite thing about the season. "My face lights up when I make them," he says. The apples are cored and laid on top of a bed of crumbled spice cake donuts. The middle of the apple is then filled with dried cranberries from Graceland Fruit, also of Frankfort. Topped with a sticky bun smear, the whole apple is closed up in puff pastry dough, egg washed, sprinkled with crystallized sugar and then baked to perfection. A limited number are made in October and November, and if Adreon gets just one, he'll be a happy man.
Visit Crescent Bakery at 404 Main St., Frankfort and visit their official website for additional information: crescentbakery.com
Related Read: Lunch with a View: Don't Miss this Harbor Springs Fall Color Hike.
Photo by Crescent Bakery & Cafe
September's Bite: "Why We Cook: Women on Food, Identity, and Connection"
While the students in your family gather all the books they'll need for fall term, don't forget to nab a title for yourself—like "
Why We Cook
" (Workman, 2021), written by
Leland's
Lindsay Gardner. This compilation of vignettes and recipes from some of the most influential women in food includes Michiganders such as Farm Club opening chef Abra Berens and Dinner with Your Muslim Neighbor's Amanda Saab—both of whom have impressive life stories. Also impressive, Gardner's marvelous watercolor illustrations. Equal parts author and artist, Gardner is a talented painter who now calls Northern Michigan home.
Related Read: Farm Club Honors Traverse City Community, Land & Local Food.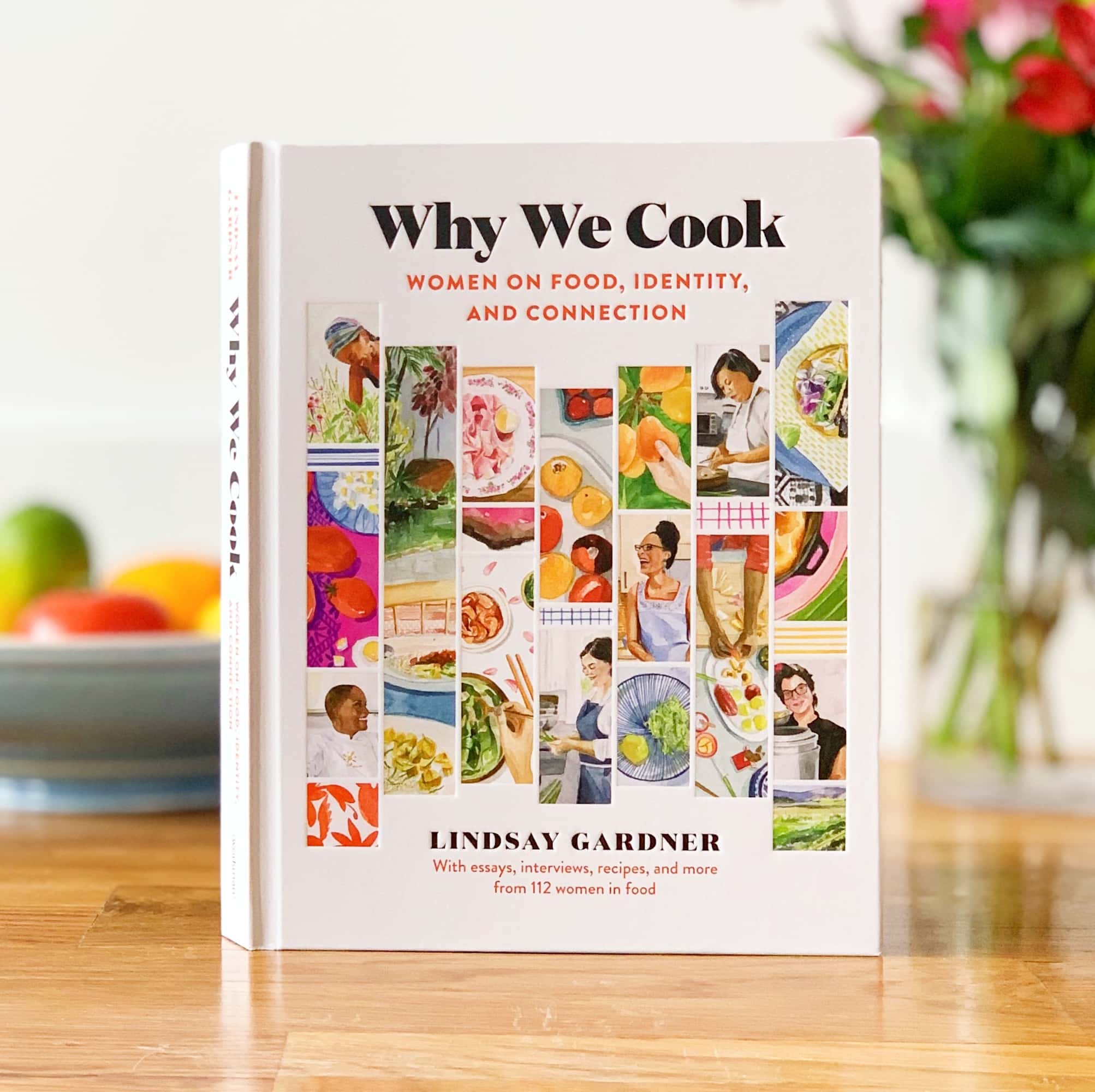 Photo by Lindsay Gardner
Beloved by generations of guests and set on the holy waters,
Gates Au Sable Lodge
took home first place for Red Hot Best 2021 Fishing Charter in the
Kalkaska
,
Gaylord
and
Grayling
region. But it's not just fishers who flock here. The
onsite restaurant
, which has a pick-up window for to-go meals on the river, lures in non-fishers, too, with from-scratch breakfast, lunch and dinner. Lodge owner Josh Greenberg, is, for good reason, partial to the Greenberg Special. The hearty breakfast plate is loaded with chorizo sausage, pico de gallo, two eggs any style, your choice of toast and what's known as Au Sable hash browns—cheddar cheese, green onions and shredded potatoes that morphs into delish crusted hash browns.
Related Read: Red Hot Best 2021: 46 Best of Kalkaska, Gaylord & Grayling.
Photo by Gates Au Sable Lodge
This brand new, limited-edition beaut from
American Spoon
celebrates ripe and juicy July berries. Prelude raspberries, grown downstate at K&K Farms in Coloma, are simmered in sugar with sliced Jewel strawberries from Grossnickle Farms in Kaleva creating a thick, saucy topping you can put on just about anything. Pour it over pancakes, stir it in smoothies or drizzle it on a sundae along with a generous dollop of American Spoon's Chocolate Fudge Sauce. Find the compote in stores in
Petoskey
,
Harbor Springs
,
Charlevoix
or
Traverse City
, or online at the website link above.
Photo by American Spoon
The Glenwood
, a 2021 Red Hot Best restaurant tucked along M-22 in Onekama, sells thousands of its most popular pie each season, each slice bursting with blueberries, cherries and raspberries and crowned with a crumb topping. All of the fruit is locally grown, primarily by
Smeltzer Orchard Co.
in Frankfort. Restaurant co-owner Donna Ervin bakes most of the pies, though it's a team effort on busy summer days. "Our old-fashioned dessert tray has anywhere from 10 to 14 desserts daily," she says. Donna's favorites: cherry and key lime pie. The Glenwood's retail store in Manistee, Glenwood Market, also sells the fresh fruit pies.
Photo by The Glenwood
Nestled within the village at grand traverse commons is a quaint yellow building dating back to 1892 that's home to a not-to-miss Mexican restaurant serving up made-from-scratch authentic eats. This is where you'll find the perfect savory street taco—think melt-in-your-mouth pork, fresh cabbage, onion, cilantro, salsa verde and a sprinkle of feta cheese wrapped in warm corn tortillas.
Owned and operated by husband-and-wife team Vicente and Anna Serrano, Spanglish is a delicious marriage of traditional Mexican recipes and fresh Northern Michigan ingredients. Anna and Vicente pride themselves on serving generous portions at affordable prices, and their tacos are a prime example of that mission. Order à la carte, or try the three taco deal (warning: you will absolutely have leftovers!). You can add on guac, avocado, hot sauce or sour cream, but I recommend trying the unaltered version first. Stop by on Cinco de Mayo for homemade tamales, burritos and, of course, tacos.
Photo by Spanglish
April's Bite: Stuffed Ricotta Ravioli Pasta
A black sign hangs above a tiny cream-colored building tucked on Union Street: "
Forrest A Food Studio
, Private Chef." Inside, Chef Forrest Moline and his wife and business partner, Nicole, welcome customers and send them off with generously stuffed frozen pasta and bottles of wine. Forrest and Nicole began offering Thursday evening carryout dinners, such as ready-to-heat chicken saltimbocca and braised beef tostadas, along with frozen pasta when the pandemic prevented them from hosting in-person dinner events.
Now that restaurants in Michigan are once again open for dine-in, Forrest and Nicole are continuing to offer frozen pasta (pre-order online and pick up on Thursdays between 3–7 p.m.), but are swapping out the carryout dinners in exchange for a happy hour food menu with cocktails and wine by the glass each Thursday from 4–7 p.m. Just stop by, reservations aren't necessary for happy hour. The food studio also has an onsite wine shop, which carries natural and organic wines (open Thursdays and when Forrest and Nicole are rolling out pasta dough; swing by if you're in the area). Each bottle has a notecard with food pairing suggestions, making it easy for anyone to select a complementary combo.
What I ordered (and loved): stuffed ricotta ravioli pasta. For his house-made ravioli, Forrest makes ricotta using milk from Moomers Farm Creamery, adding basil, black pepper and chives. I paired my pasta, topped with rosemary goat cheese cream, with a bottle of Loveblock, a New Zealand sauvignon blanc. 408 S. Union St., Traverse City
Pssst! The oatmeal chocolate chip cookies are amazing. Do not leave without an order. (Each order contains two cookies; I don't recommend sharing. Everyone, get your own!)
Photo by Forrest A Food Studio
March's Bite: Michigan Maple Walnut Fudge
In the heart of maple syrup season, order a thick half-pound slab of Michigan Maple Walnut Fudge. Opened in 1887, the Original Murdick's Fudge is Mackinac Island's first fudge shop, and more than 130 years later, the fudge is still made the same way—a recipe filled with history, art and science.
To achieve Murdick's signature texture, fudge makers must cook and shape each of the 20-plus flavors at different, and exact, temperatures. "Our fudge is creamy inside with a slightly firmer exterior after it sets, and that's very different than any other fudge you'll find on Mackinac Island," says Co-owner Bob Benser. "Other fudges are very creamy throughout, which lots of people like, but our recipe follows old-fashioned techniques that have been passed down through the generations."
Lucky for all of us, for the first time Murdick's is keeping its online store open year-round in 2021, delivering luscious treats to your doorstep in every season.
Photo by Kelly Hofman
40 Delicious Food Finds to Add to Your Small Bite Exploration
Feast on this Northern Michigan food tour from Ludington to Marquette.
GINGER SCONE
Red Rooster Coffee & Community / Ludington
These little cuties get a double dose of ginger—ground and finely chopped candied—for a kiss of delightful heat in every buttery bite. Ludington's favorite coffeehouse sources them from the nearby Laughing Tree Brick Oven in Hart.
DUCK FRENCH ONION SOUP
Cafe Santé / Boyne City
Long simmered roasted duck broth flush with shredded confit gets a lid of baguette crouton and Gruyère gratinée to drive away the residual winter chill.
CHITARRA CARBONARA
The Marq / Marquette
My advice for The Marq, Marquette's on-trend temple of contemporary eats, is to order everything. If you're making hard choices then order the chitarra carbonara: hand-cut ribbons of fresh pasta with crispy lamb belly, egg and Parmigiano.
SPICY HABANERO PICKLED ASPARAGUS
Natural Northern Foods / Traverse City
Launch your Bloody Mary game to new heights with these little javelins of pickled-crisp perfection.