Kicking off the holiday season has never been easier thanks to November's Last Call, the Maple Old-Fashioned. Featuring local maple syrup, dive in to explore the history of one of America's oldest cocktails with a Michigan twist.
Aptly named, the old-fashioned cocktail has been around for more than 200 years. Said to have been the first cocktail to ever appear in print when published by The Balance and Columbian Repository in 1806, the classic can also be traced to a private social club in Louisville, Kentucky that is credited with popularizing the drink in the 1880s.
Whichever birth story you subscribe to, the original was historically made by muddling a cube of sugar with a few drops of Angostura bitters, before adding a piece of ice, whiskey and a citrus peel. Over the centuries, plenty of bartenders have riffed on the drink. During prohibition, they muddled orange slices and cocktail cherries in the bottom of the glass to mask the subpar spirits available then. In more modern times, whiskey has been replaced with rye, or even tequila. Just across the water, Wisconsin's state drink is a brandy old-fashioned— which is made with brandy and 7UP.
Photo by Dave Weidner
Here in the Mitten, the riff we like best is much closer to the 19th-century original, but replaces the sugar cube with an ingredient that is even older than the drink itself—maple syrup. This version is at once sweet enough for your grandmother yet still strong enough for the most astute whiskey connoisseur in the group, making it an ideal way to start (or end) any holiday reunion.
Maple Old-Fashioned
Serves 1
2 ounces whiskey
1⁄2 ounce Michigan maple syrup
3 dashes Angostura bitters
Orange peel
Maple Old-Fashioned Cocktail Directions
Into a mixing glass or mason jar filled with ice cubes, add the whiskey, maple syrup and bitters and use a bar spoon to stir for about 30 seconds or so, to release water from the ice. Place a singular rock of ice in an old-fashioned glass and strain the whiskey mixture as you pour it into the glass over the cube. Garnish with an orange peel and serve.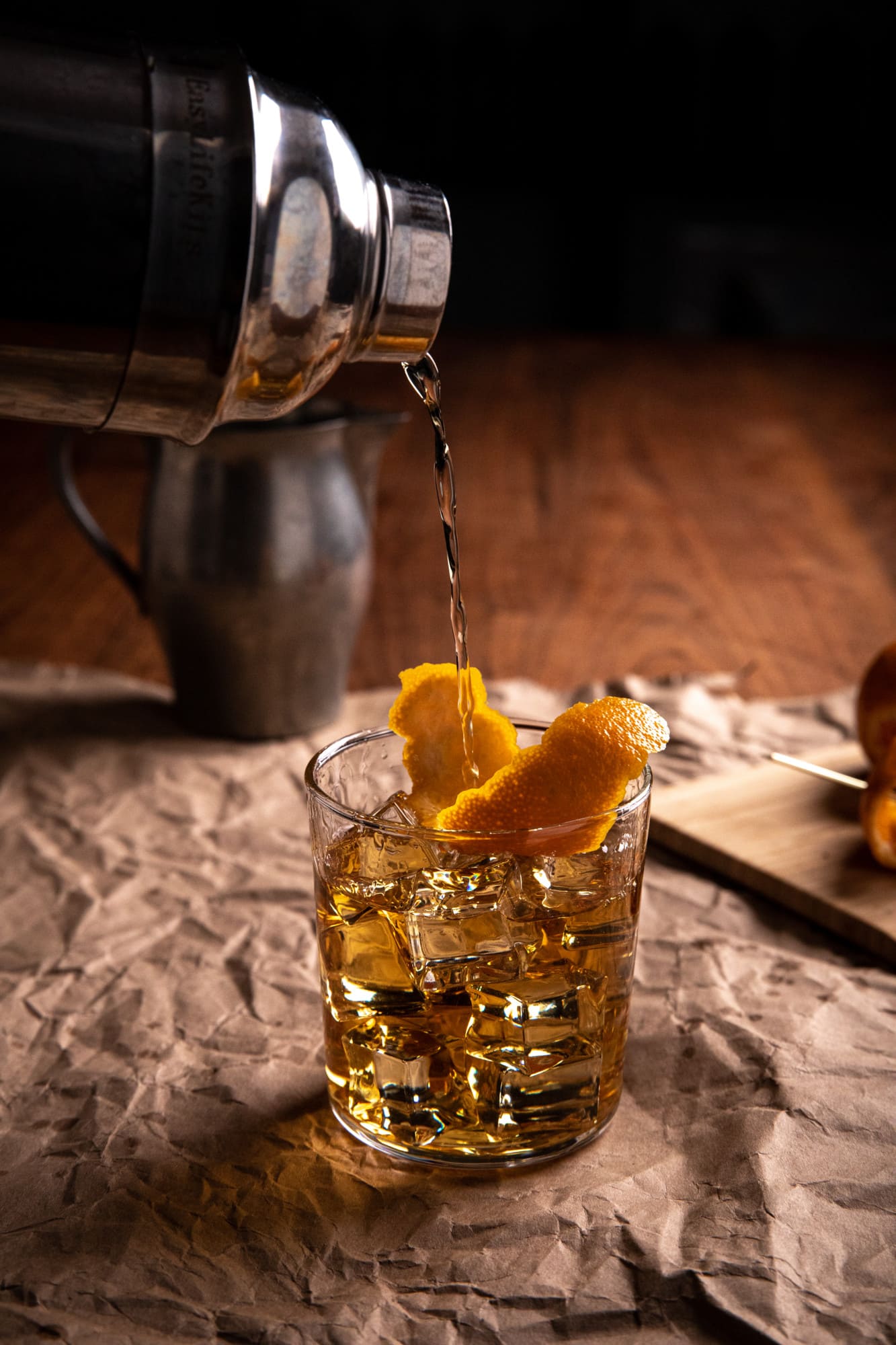 Photo by Dave Weidner
Stacey Brugeman is a Leelanau County-based food and beverage writer and editor. Her work has appeared in Food & Wine, Saveur, Travel + Leisure, Eater and Denver's 5280, where she served as Restaurant Critic. Follow her on Instagram @staceybrugeman.