Organizations across the country are asking 30-year-old Grand Traverse Regional Land Conservancy how they not only raised $93 million in six years but also completed 88 conservation projects. GTRLC tells them it takes a village of people committed to Northern Michigan preservation and a lot of hard work. Read on to learn about the gifts preserved for us all.
Do you remember the moment you realized how special the North's natural, wild places are? Was it while climbing sandy dunes, or during a serene marshy paddle? A walk through the woods or a moonlit snowshoe hike?
Kate Pearson recalls such a moment during a winter excursion at Maplehurst Natural Area years ago. Pearson, the senior charitable giving specialist for Grand Traverse Regional Land Conservancy (GTRLC), was leading a snowy group hike on the 389-acre Antrim County property, which is a vital part of the Chain of Lakes watershed and home to 150 acres of steep hardwood forested bluffs, open meadows and the 60-acre spring-fed Lake Maplehurst. It was her aim that afternoon to explain just how ecologically important the area is, and why it needs to be protected from potential development. "This land has an inland lake and ridge views of Torch Lake, Elk Lake and Grand Traverse Bay—it's so easy to imagine how readily it could be developed," Pearson says.
As she spoke with the group, a snowy owl flew from the Torch Lake side over their heads, toward the northeast. "We just stood there and watched. It was so beautiful," Pearson recalls.
Moments later, two eagles soared over the group, coming from the northeast. What more could she possibly say?
"I just felt like nature was saying to us, 'Yes… Thank you,'" Pearson says, her voice catching.
Protecting the North's significant natural areas, wildlife habitat and farmlands is personal for Pearson and her colleagues at GTRLC. Advancing preservation and stewardship has been the conservancy's mission for the last three decades—they've protected more than 44,000 acres of land and 140 miles of shoreline in the process.
And they're not slowing down any time soon.
That's thanks in large part to dedicated, diligent staff members who planned and executed an unprecedented six-year fundraising campaign—the Campaign for Generations—which came to a close on June 30 (just a couple months after the conservancy's 30th anniversary).
GTRLC Executive Director Glen Chown—who celebrated his 30th anniversary leading the conservancy in June—says their phones were "ringing off the hook" back in 2015 when the campaign began.
"Some of the most outstanding properties in the region were coming online," Chown recalls. "Community members and landowners were calling us over and over and saying, 'Did you hear about this property?
Photo by Grand Traverse Regional Land Conservancy
More than $1.2 million was raised to fully fund the creation of the Mount Minnie Nature Preserve. The property, which sits on the isthmus between Platte and Little Platte lakes, features hills that rise over 135 feet above the water, six acres of highly-diverse riparian wetlands and 1,567 feet of frontage on Little Platte Lake; All 22 acres of Lower Woodcock Lake, along with a half mile of Platte River frontage, have been protected thanks to nearly $2.5 million raised during the Campaign for Generations.
We knew we were going to lose a lot of natural areas that people treasure if we didn't do some sort of campaign."
So, the GTRLC team undertook a massive effort to prioritize and catalogue properties across their five-county service area—Antrim, Benzie, Grand Traverse, Kalkaska and Manistee. What they unearthed was a list of about 60 projects anticipated within a six-year time frame that would cost roughly $60 million to complete.
But the conservancy's board argued that the goal wasn't enough. It was just a list of properties on the staff's radar— what about the unknowns that would inevitably come up? So, they went big and landed on $71 million.
"It was an audacious goal—there's never been a campaign of this magnitude in the Great Lakes region," Chown says. "It was uncharted territory."
When the campaign closed on June 30, the 60 projects envisioned had grown to 88, and fundraising far surpassed the $71 million goal, totaling $93 million. "The need was there," Chown says.
"We dug deeper, and our supporters did, too," Chown adds. "They were courageously generous."
As for the Maplehurst property, with its snowy owl and eagle sightings, it's one of the sites protected for generations to come, thanks to more than $3.87 million raised during the campaign—and to couples like the one Pearson met during that winter hike who committed to a $100,000 pledge.
"Things like that have happened repeatedly throughout this campaign—where the quality of the projects speak for themselves," Pearson says. "We're working to protect these lands that are of the absolute highest import to the wildlife, their habitat, and to our way of life. People getting out and understanding that interconnectedness really created a wave of generosity."
There's a common thread among the variety of geographies and types of properties GTRLC has been able to protect during the campaign: without funding and the ability to move quickly, the conservancy likely would not have been able to preserve these high-priority spaces at critical junctures.
Jennifer Jay, GTRLC's director of communications and engagement, says often the conservancy puts in years of work maintaining connections and relationships with landowners so that when a property comes on the market, they're ready to purchase and protect the land. But that type of timeline often means funds need to be available at a moment's notice.
Such was the case with the 290-acre Torch River Ridge Nature Preserve. Jay says GTRLC had been working with the landowner, Bill Weiss, for 25 years.
"Sometimes it takes that long to reach out, build a relationship and talk about the benefits of conservation," she explains. "It's about being patient until they're ready, because we only work with willing landowners. We never pressure anybody, we just say, 'Please don't forget us.'"
Torch River Ridge features 1,700 feet of undeveloped wetland frontage along the Torch River, connecting Torch Lake to Lake Skegemog. The site's river frontage, steep topography, wetlands and forests provide a wide range of habitats, in addition to helping filter the runoff entering the Chain of Lakes watershed. During the campaign, the conservancy was able to raise more than $2.2 million to fully fund the creation of this preserve, with the aim of building trails for hiking, cross-country skiing, snowshoeing and birdwatching.
Directly west of Torch River Ridge, landowner Vicki Jacobs chose to protect her 211-acre private property, Schuler Farm, on Lake Skegemog in Antrim County with a conservation easement as part of the campaign. Jacobs says working with the conservancy was "wonderful," as she felt she was able to openly discuss her needs and goals.
"I have a vision of my kids and grandkids being able to be at the lake like we were when we were kids—of being able to do the same things that we did, like walking in the woods, and being able to enjoy this place just the way it is," she says. "The fact that they'll be able to do that is something that would really please my dad; he'd love knowing that all future generations will be able to enjoy this place."
Then there's the Upper Manistee Headwaters: The Milock Family Preserve in Kalkaska. The former Camp Tapico property, owned and operated by the Boy Scouts for about 80 years, spans 1,288 acres and includes a 130-acre spring-fed lake, various types of wetland habitat, several kettle-hole ponds and about a mile of the north branch of the Manistee River.The cost to preserve it? Nearly $4 million.
"We had a few large donors for that property; it all really fell into place," says Chris Sullivan, GTRLC's director of land protection. "Without the campaign, we would've looked at that and said, 'How are we going to raise $4 million in Kalkaska County?' Regardless of how widespread the support is for something, we need to find folks who can provide large gifts to make it happen."
Sullivan says the game-changer for that property deal came when the Milock family gave GTRLC a three-year loan, and as long as it was paid back on time, the interest was forgiven. After GTRLC paid off the loan, the Milocks donated funds back to the project.
"They were incredibly generous to help us acquire that preserve," Sullivan says.
A popular birdwatching spot—Arcadia Marsh—also benefited greatly from the campaign. Nearly $1.5 million was raised for the creation of a new universal access boardwalk trail that traverses the marsh and allows visitors of all ages and abilities to hike, birdwatch and enjoy two observation platforms and a small fishing pier along Bowens Creek. Arcadia Marsh is one of the last remaining coastal marshes on the eastern side of Lake Michigan, making it a critical site from both a water quality and habitat standpoint.
Jennifer Jay is especially excited about this project, following her own not-so-common wildlife encounter there.
"I went to the marsh and—I'll never forget this moment—I saw a white pelican," Jay recalls. "I couldn't even speak. It was astounding. I didn't even know that white pelicans actually migrate through this part of the world.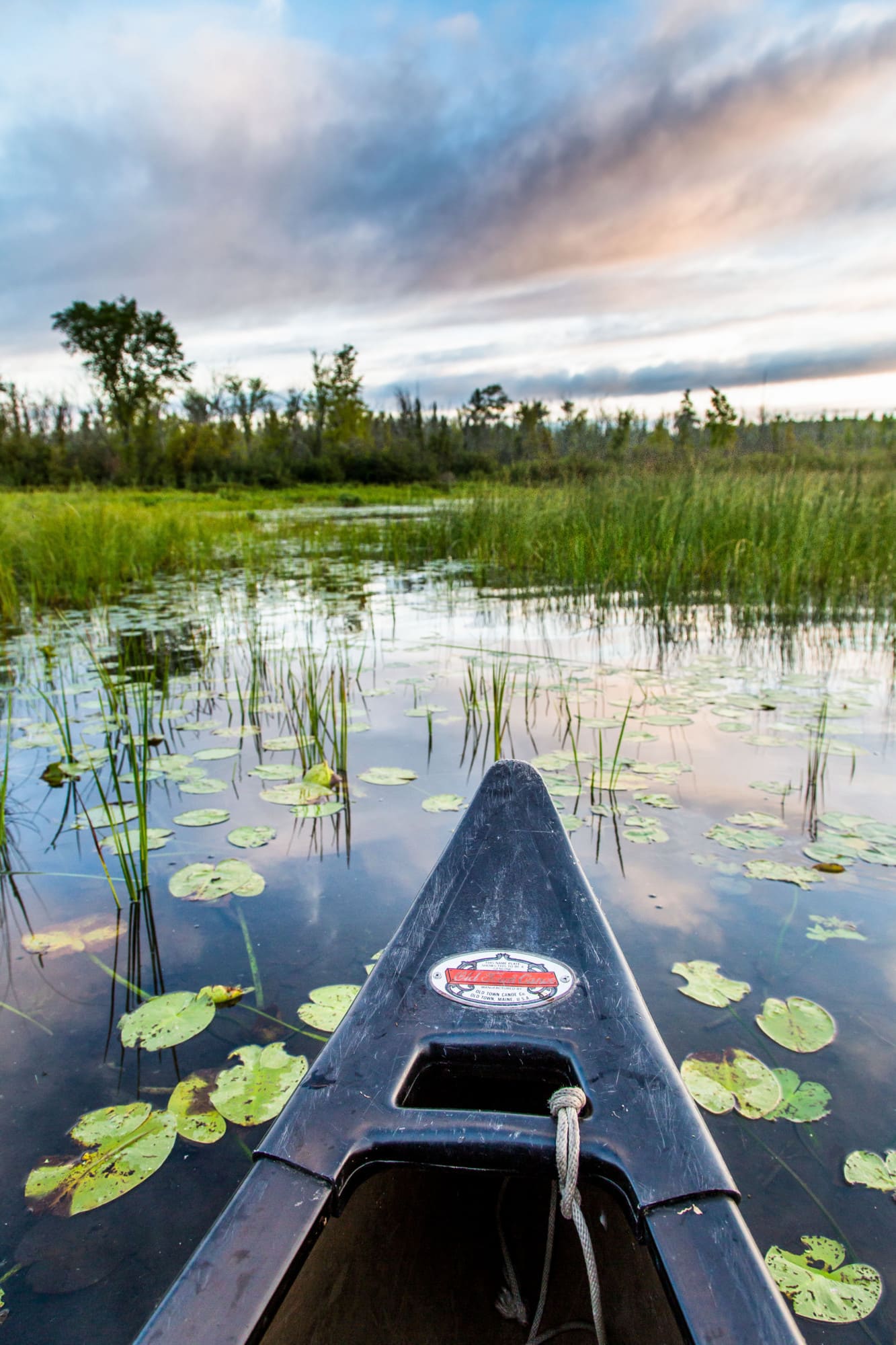 Photo by Grand Traverse Regional Land Conservancy
Situated at the northern tip of Lake Bellaire, Golden Days Loon Nature Sanctuary is home to two coldwater creeks that meander through a hardwood-conifer swamp. This vital ecosystem provides cover and food for a variety of aquatic life, including loons.
Nearby, Arcadia Dunes also received a universal access overlook trail that offers people views of Lake Michigan perched atop the dunes. Pearson recalls hearing from one woman from Arcadia who uses a wheelchair; she had not been able to see that view of Lake Michigan since she was 15. The woman utilized the universal access trail after it opened, and later emailed her journal entry from that day to conservancy staff—enjoying peaceful moments like sitting in the sun and hearing the hush.
"I saw so many people out in nature using UA trails that would have not been outdoors if those amenities weren't available to them," she says. "There was so much gratitude expressed."
Lower Woodcock Lake in Benzie County was another high-priority project that's been fully funded thanks to the campaign. Nearly $2.5 million raised means the successful preservation of the picturesque 22-acre lake and a half-mile of Platte River frontage. The 230-acre property lies within the Platte River watershed and joins Timbers Recreation Area (Fern Lake), Upper Manistee Headwaters Preserve (Grass Lake) and Maplehurst Natural Area (Lake Maplehurst) as the only GTRLC protected lands that include an entire lake of 15 acres or more.
"In this campaign, we've protected three entire inland lakes. These are three lakes you can go to and you'll never see any development of their shorelines," Chown says. "What's Northern Michigan without these beautiful lakes?"
Regardless of a property's location or features, the message from GTRLC is clear—much of this work would not have been feasible without the support of numerous and magnanimous donors.
"This campaign has been so filled with heroic efforts and heroic donations, that it's just continually inspired my faith in our community of supporters," Pearson says. "It's a really scary thing to see properties that are incredibly vital to our ecosystem be in harm's way. To have conservancy supporters respond with such enthusiasm, and to see such levels of sacrificial giving—people of modest means reaching very deeply out of a love for the land … It's hard to put into words what that means to us."
Sheila Crowley and her husband Max Wicha reside in Ann Arbor, but the couple also has a home on Torch Lake. It was important to them to donate to a conservation easement along Torch Lake, but also to give to the campaign in general.
"Protection of the landscape and environment is absolutely vital, and donating to the conservancy is just one of the best returns on investment that you can make," Crowley says. "We feel we need to do our part to keep land unspoiled and beautiful so that future generations can thrive and live their best lives."
Despite expectations, campaign donations actually increased during the pandemic, and in talking with donors over the last year, Pearson found that many people were happy to be a part of something positive.
Photo by Grand Traverse Regional Land Conservancy
Torch Bay Beach in Antrim County is a serene, scenic spot to explore the woods and shoreline of East Grand Traverse Bay, complete with marked trails, a viewing platform and interpretive signage.
"There were many tearful phone calls where people said they felt so good giving in the midst of a situation where they felt helpless," she says. "It's easy to get overwhelmed with how to help the environment, but these properties are just so tangible and immediate. And with the pandemic, the properties became so vital for people to get outdoors, and they got so much use as people depended on these spaces for mental health. There became this feedback loop of happiness."
It wasn't difficult, she says, for people to understand that we have a once-in-forever chance to protect these places.
"I really think this campaign fell at an absolutely crucial time," Pearson adds. "I had this feeling that in the future, people would reflect on this era in our region as a period of time when we retained an incredible amount of our natural resources, or we lost more than we really should have. One hundred years from now, when people look back, I want to be on the side of protecting our natural resources."
Having grown up in Traverse City, Sullivan says the campaign was full-circle for him in a personal way—the conservancy was able to purchase an easement for a cherry farm that gave him his first job at 14 years old. But not all land is saved. The woods he played in as a boy are subdivisions now. "There are plenty of those stories," he says. "Every project we do, I have to assume, has that sort of impact on somebody."
He's thankful that the conservancy can focus on working more proactively now rather than being primarily reactive. "To me, the greatest thing about the campaign is it has allowed us to fundraise more as a suite of projects and organizational goals," he says. "It's more of a big picture approach, rather than little silos for individual projects."
Chown says land trusts across the U.S. are now looking at the Campaign for Generations as a model.
"It's about the future, and it's a pretty hopeful future when you think about it," he says. "We all make a choice to live in Northern Michigan for a reason. For a lot of people, it's the quality of our natural resources, the farmland, the views and vistas, our water quality, lakes and streams, and our sand dunes and coastlines that are some of the most geologically unique features in the world. Nobody wants to lose that, and development pressures are only growing. We're focused on saving the very best places."
Chown says the conservancy doesn't have any plans to slow down after the campaign. Looking ahead, they're working on creating a conservation center on Three Mile Road that will better engage GTRLC's volunteers and supporters as well as connect the TART trail system going south.
"There's no rest for the weary, and I wouldn't have it any other way," he says. "We're going to keep going, and I'm confident our supporters will be with us all the way. It's going to be a lasting legacy.
Allison Jarrell is the managing editor at Traverse Magazine. You can reach her at allison@mynorth.com, or follow her on Instagram: @allisonjarrellphotography.
Whether you're searching for the latest preservation news or you're looking for the best ways to get outside and explore Northern Michigan's parks and preserves, we have everything you need on our Northern Michigan Environment & Preservation page.