Our Suttons Bay restaurant guide is here! From the tasting menu at Wren to the Biergarten at Hop Lot, there are options for all in this Leelanau Peninsula town. Check out what's being served up in Suttons Bay. Bon Appétit!
This post is regularly updated.
Sutton's Bay Restaurants
BLD: Breakfast, Lunch, Dinner
BAR: Alcohol served
$: Entrées under $10
$$: Entrées $10–$20
$$$: Entrées above $20
A quick-service restaurant overlooking the Suttons Bay Marina that serves up Mexican street food staples. Variations of tacos, burritos, bowls, and quesadillas are available with a signature Cilantro-Lime Crema. Kids menu available.
LD • $, $$ • 206 St. Joseph, Suttons Bay, MI. Suite D (Front Street) • (231) 866-4082
 A full-service coffee and tea house that offers light eats and bakery items. Traditional Pad Thai may be available, check Facebook page for daily updates and specials. 
BL • $, $$ • 310 N St Joseph St, Suite C • (231) 866-4666
A cozy, log-cabin-themed eatery that offers hand-cut steaks, fresh fish, handmade burgers, and famous jumbo onion rings. Rooftop deck seating is available during the summer and fall months.
LD • $$ • 102 N St Joseph St • (231) 271-6688 
A charming local bakery with fresh donuts, cookies, pies, and cakes. Fresh, locally sourced fruit when in season. 
BL • $ • 720 N St Joseph St •  (231) 271-2270
A quick and delicious stop that offers both classic Chinese dishes and specialty Thai cuisine. Order anything from Pad Thai to Cashew Chicken from this quaint little restaurant.
LD • $$ • 316 N St Joseph St. • (231) 271-0202 
Biergarten with available lunch and dinner options. From ordering BBQ fare to trying the newest Hop Lot beer, there is something delicious on the menu for everyone.
LD & Biergarten • $ • 658 S. W. Bay Shore Drive • (231) 866-4445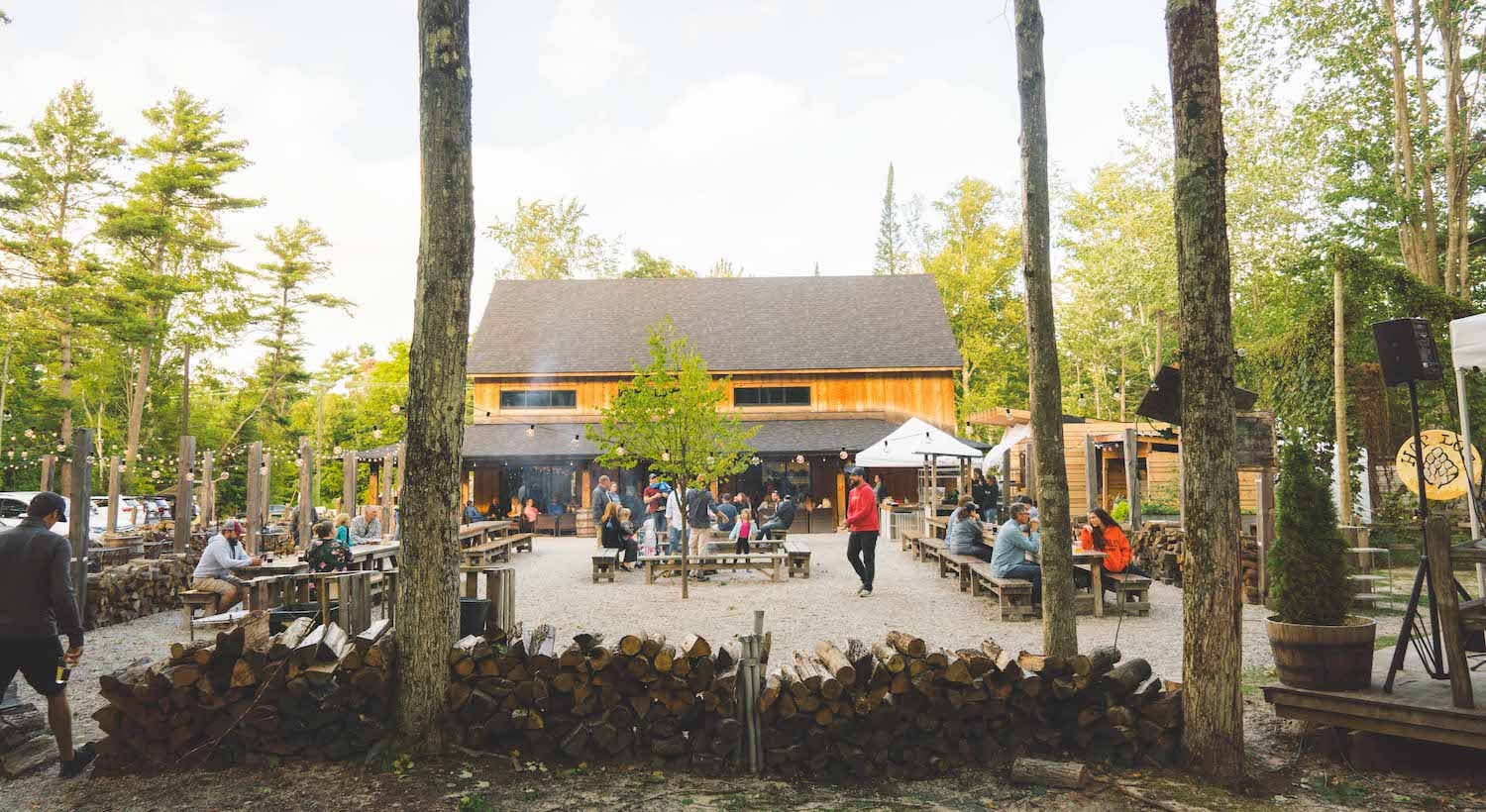 Photo by Grant Piering
A made-to-order (with love) sandwich shop that serves up breakfast and lunch sandwiches. Try a fried egg with a mashed potato patty, sausage, gouda, and herb mayo on a ciabatta roll for brunch, or some delicious "Frenchy Cakes".
BL • $ • 99 W 4th St Suite B, • (231) 866-4081 
A charming bistro and cafe that serves European-inspired entrees made from scratch. Uniquely located inside of a centuries-old farmhouse, Martha's specializes in local food and wines from family-run farms on the surrounding Leelanau Peninsula.
Red Hot Best Winner 2021.  D • $$ • 413 N St Joseph St. • (231) 271-2344
A quick-service breakfast and/or coffee takeout spot, serving up a unique breakfast experience. Get a jumpstart on the morning with a signature waffle creation or a croissant bun sandwich and an oat milk latte to go!
B • $, $$ • 206 N St Joseph St Suite A & B, Mundo's Roast Co. is located behind the Eat House • (231) 590-1781
Located inside a charming craftsman cottage, guests can enjoy a casual, relaxed atmosphere while dining at North Country Grill and pub. The restaurant offers delicious plates unique to the area, as well as some famous Boone family recipes. Try a hand-rubbed seasoned Prime Rib or a lightly battered Lake Superior Yellow-Bellied Perch for dinner! 
LD • $$, $$$ • BAR • 420 N St Joseph St • (231) 271-5000
A bustling quick-service local pizza shop with classic Italian & American comfort foods. Dine-in or takeout is available.
LD • $$ • 116 N St Joseph St • (231) 271-4176
Local ice cream shop serving flurries, smoothies, milkshakes, soft-serve, sundaes, and more. Both Moomers and Buchans local Michigan ice creams are served. Non-dairy and vegan ice cream sometimes available, be sure to look for updated flavors.
$ • 403 St Joseph St • (231) 866-4505
A neighborhood restaurant and bar with seafood specials, burgers, pasta, salads, flatbread pizzas, and more for late-night dining. Check out the beer list and full bar!
LD • $$ • BAR •  111 N St Joseph St • (231) 866-4199
A family-friendly dine-in or takeout stop serving fresh, handmade pizza, subs, salads, and desserts. Equipped with an 80s themed arcade full of classic standup, tabletop, and Nintendo games for plenty of family fun.
LD • $$ • 100A Cedar St • (231) 866-4494
A new, casual take on an upscale dining experience. Wren's menu features rustic bistro fare, decadent comfort food, and craft cocktails, all created with passion and curated from quality sources. Outdoor patio seating available.
D • $$, $$$ • 303 N St Joseph St, Suttons Bay • (231) 271-1175
Photo by Dave Weidner
A cozy, Northern-Michigan-themed grille with a patio offering traditional American comfort food, salads, wraps, and burgers, with local brews on tap.
LD • $$ • 201 N St Joseph St. • (231) 271-3300
A laid-back brunch spot offering omelets, fresh coffee and pastry items, sandwiches, and burgers with outdoor seating.
BL • $$ • 102 W Broadway St. • (231) 271-2233