Interior designer Shane Inman reinvents the idea of home for his dream Traverse City clients.
Featured in the December 2020/January 2021 issue of Northern Home & Cottage. Read the magazine here.
For over three decades, Bill and Susie Janis have been well-known in the Traverse City area for their philanthropy and Susie's many volunteer endeavors. While Bill is (and has been for nearly 50 years) the owner and president of Century, Inc., a Traverse City-based manufacturing company, Susie is a past recipient of the Distinguished Service Award from the Traverse City Chamber of Commerce. For decades, the couple lived in a spacious home on Old Mission Peninsula. Although close to Traverse City, it also had a vineyard and water frontage on West Grand Traverse Bay. But most of all, it had room for all the lovely furnishings and art pieces the couple has collected throughout their 44-year marriage. It was the kind of place you'd want to live in forever.
But, as they watched many of their friends downsizing and moving into downtown Traverse City condominiums to be within walking distance of restaurants, shops, churches and cultural events, the Janises strongly began considering a move downtown themselves. The couple looked at several units and eventually purchased a 2,200-square-foot condo on Washington Place to replace their Old Mission home. "As hard as it was to leave our spacious home, we felt that it was the best decision for us in our retirement years," Susie says.
As the couple decided to remain at their Florida home during the stay-at-home order earlier this year, they turned to their longtime interior designer, Shane Inman of The Inman Company, to orchestrate this significant downsize, as well as the move. All told, the move, says Inman, "took two months and a full crew working around the clock donating, selling and organizing their possessions."
"Had it not been for Shane we know we would still be packing," Susie says with a laugh.
What Inman and Susie decided to keep of the Janis possessions defined the Asian-influenced decor style that they had collected for decades. Among the pieces were a black lacquered altar table, a free-standing black lacquer bar, stacking Asian trunks, assorted antique end tables and two swivel club chairs Inman had recovered in silk.
Even as he was moving the Janises out of their Old Mission home, Inman was overseeing a top-to-bottom renovation of the Washington Place condo. The Janises' most fundamental request of Inman was to make their new home comfortable for them. However, Inman, who has worked extensively in Manhattan, also set out to make the condo a new standard for downtown living in Traverse City; one that reflects a beautiful bayside city learning to combine its Midwestern roots with an emerging upscale, urban environment.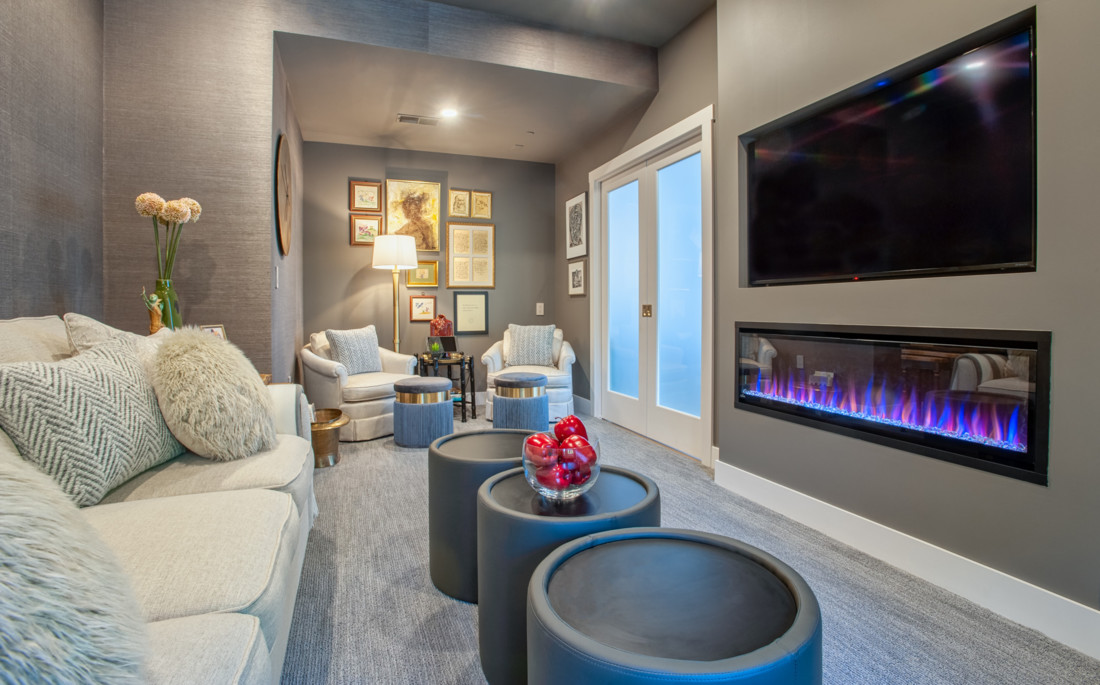 The designer dove into the job with his signature gusto and acumen. The changes he oversaw in the condo were extensive and included making the unit aging-in-place friendly, moving the HVAC to provide more space for an office and a larger den, removing a wall to enlarge the laundry room, building-out the butler's pantry, changing all the lighting, switching all the hardware and fixtures from silver to gold, creating a new fireplace and remodeling the entire master bedroom suite. Susie had given Inman an inspiration picture and from that, Inman went on to select all new custom draperies and flooring, including a custom-designed rug with black banding to echo the stacked dental/crown molding with a black accent that he had designed and installed throughout the unit.
In the kitchen, Inman had a stunning new backsplash made with high-relief, Asian-influenced marble tiles and new waterfall-end kitchen countertops installed. "I was skeptical before we purchased the backsplash tile because I thought, 'Oh, spaghetti sauce messes,' but it wipes up beautifully," Susie says.

Using `a tried-and-true urban apartment strategy, Inman solved the kitchen's biggest design issue: Access to the double-ovens was in a back hallway, adjacent to the kitchen and across from the butler's pantry. His solution? To unite the hallway with floor-to-ceiling and wall-to-wall paneling and moldings that coordinate with the kitchen.
Besides the couple's original pieces, Inman selected new furniture, including sofas. Susie had recently purchased a stunning one-of-a-kind, fabricated brass-based dining room table. Inman had the tabletop resized and the black lacquered chairs upholstered in a velvet geometric gold-and-black pattern.
Perhaps the biggest gift to the Janises was how Inman handled their art collection, a task that began with reframing and remitting some 50 pantings. "I had asked him where he was going to place all the art and he said, 'I am going to surprise you with that,' " Susie says. The big reveal was indeed stunning. Inman has turned the entrance hallway into a gallery wall by stacking the largest golden-framed pieces of artwork from top to bottom, complete with gold picture lighting and glass wall covering. "It's an immediate focal point off the foyer that takes guests on a stunning tour of a lifelong dedication of collecting," Inman says.
"The results overwhelmed us," Bill and Susies say of the gallery wall, as well as the placement of art throughout the entire condo. "It's a little crazy to have lived in a place for 32 years and not shed a tear when you leave," Susie adds. "However, having the pieces that are sentimental to us makes us feel like we are home."
Susie, says Inman, shares the credit in how perfectly the renovation turned out: "Working together with Susie was a very rewarding process. She understands design and the concept of elegance — an interior designer's dream client."