Whether it's as simple as sitting on logs pulled up to an old-fashioned fire ring or as elevated as sinking into Adirondacks in front of an outdoor hearth, the act of gathering around a fire under the wide-open sky nurtures us in a basic, primeval way. Let these outdoor fireplaces spark your imagination.
Breezeway Made (Way!) Better
Pictured above: This homeowner loves fireplaces—so much so, that he asked architect Ken Richmond to design one adjacent to the breezeway between the house and the garage (all built by Biggs Construction), creating a unique outdoor room. The trick, says Richmond, was to situate the fireplace close enough to the breezeway to make it feel a part of the covered space, yet far enough from the roof for fire safety issues.
The classic fireplace, built by Phillip Rice of Artistic Masonry, is painted white for an old-timey cottage feel. The multiuse space has places for coats, boots and firewood. It can be closed off with sliding barn doors to protect it from wind and snow. The homeowners were amazed at how much they used their new outdoor room last winter. S'mores in a snowstorm? Oh, yay!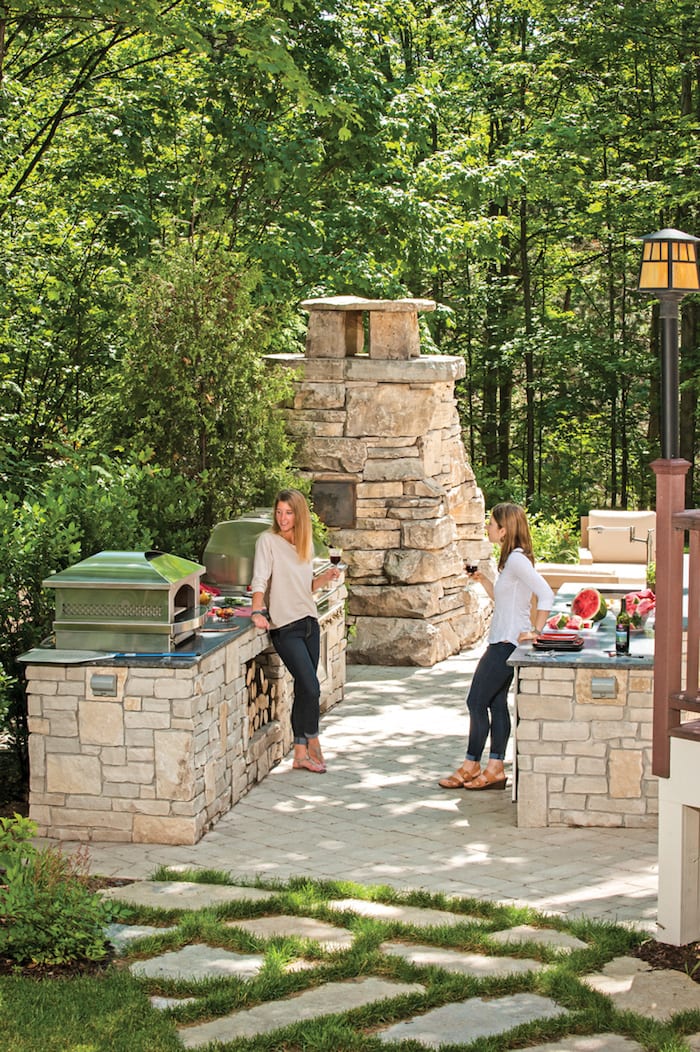 Rockin' the Good Life
This homeowner didn't stop at the massive stone hearth—he also asked Drost Landscaping to bring it all together with matching stone steps and a waterfall that leads to a natural stone hot tub. A full outdoor kitchen and native plantings blend with the wooded yard. (See the entire yard here!) The masons at Drost Landscaping are true artists at stonework, as this anecdote relayed by the homeowner demonstrates: "A rectangular stone had been chosen to cap off the hearth and to control sparks. Once the hulking piece was in place, however, it seemed too geometric and clean atop the jagged, rustic hearth. So stonemason Dustin Drost set to work with a chisel and roughed it by hand."
Backyard Heaven
When these homeowners outfitted a 25-by-13-foot patio with an outdoor patio and fireplace, they transformed their lifestyle. TruNorth's designer, Cysilia Schaub, was instrumental in laying out the elements, including the fireplace, which is an off-the-shelf FireRock 30-inch fireplace custom clad in Glacial Black 3D Starke Stone.