Soak up every glorious moment of summer in Northern Michigan with these insider tips and vacation ideas from the MyNorth team.
Before You Go: We encourage visitors to travel safely and responsibly during the COVID-19 pandemic. Remember to always practice social distancing by staying 6 feet away from others and wear a cloth mask or other face-covering while in enclosed areas or near others. Not sure whether your favorite shops and eateries will be open during your visit? Be sure to give them a call, check their website or follow them on social media for updates.
Power Island in West Grand Traverse Bay is a gem, with Caribbean blue water, hiking trails and a dock to jump off.
Mountain bike the trails and then stop for a swim break. Finish with ice cream at the Old Mission General Store.
The sandwiches! Take them across the street to Sunset Park (huge green space in the middle of downtown Petoskey) and enjoy. There's often live music in the gazebo.
Set in a sweet, historical building right downtown on M-22. And while we're on libraries, Elk Rapids District Library is tucked on a peninsula overlooking East Grand Traverse Bay.
Ride it from Beulah to Frankfort and on to Elberta Beach for a swim in Lake Michigan before you head back. The 22-mile trail goes all the way to Thompsonville if you're up for a longer pedal.
Sit right on the deck over the Crystal River in Glen Arbor and enjoy a Maurice salad and homemade desserts (even tastier after you've paddled the river—kayak rentals next door at Crystal River Outfitters).
Pick up a howler of cider then get pizza at Grumpy's Market, also on M-72 in Traverse City. (Yes, the gas station has great pizza!) Finish the afternoon with a hike on Empire Bluff Trail.
Photo by Taylor Brown // Empire Bluff Trail
Grab a seat out back in the dog crate (don't worry, it's a cozy patio) and get happily lost in the extensive libation menu at this favorite Gaylord restaurant.
This sweet community is set along the iconic Tunnel of Trees on M-119. Park your car and explore the general store (cookies!), Primitive Images (one-of-a-kind furniture and tea room) and A Studio (fun finds and gifts).
First thing in the morning, walk along the Big Manistee River through the heart of downtown Manistee. Twenty-five historical markers line the way, sharing the story of the town. The Riverwalk starts behind the Chamber of Commerce and ends at First Street Beach.
Expect to find wines you haven't tried before, like Marquette and Marechal Foch, at these 14 distinct wineries. 
Photo by Rachel Haggerty // Petoskey Wine Region
Photo by Rachel Watson // East Jordan Sportsman Park
Where Lake Charlevoix and the Jordan River meet. Go birdwatching (eagles and osprey), fishing or have a relaxing picnic. Located just across the bridge from downtown East Jordan.
"Our own Bloody Mary Seasoning" is INCREDIBLE. Use to make or season the rim of a Bloody Mary, but also wondrous on sliced tomatoes, cucumbers, sweet corn, deviled eggs and cheesy garlic toast. Summer's secret pinch of goodness.
For any reason, in any season … Swing by Market 22 (just off M-22 in Maple City) afterward for a signature Detroit-style pizza.
Housed in a massive Quonset building in Beulah (seriously, you can't miss it on Benzie Boulevard), the modern space is welcoming, relaxed and full of Great Lakes vibes.
Take a photo of this crazy cool home, then head across the street to the Harbor Springs Historical Museum to learn more about its builder, Ephraim Shay. Call the historical society to schedule a group tour of the Hexagon House: 231.526.9771.
You haven't seen NoMi until you've seen it through the lens of this father-son duo. Lighthouse, storms, wildlife—the landscape scenes are stunning. Ludington's North Breakwater Light is a popular photo subject. See it for yourself—it's just down the street from the Ludington gallery, where Ludington Avenue ends at Lake Michigan.
Order the planked whitefish at this St. Ignace restaurant. You won't be disappointed.
Take a stroll and discover the Charlevoix restaurants and businesses tucked away in this fun alley.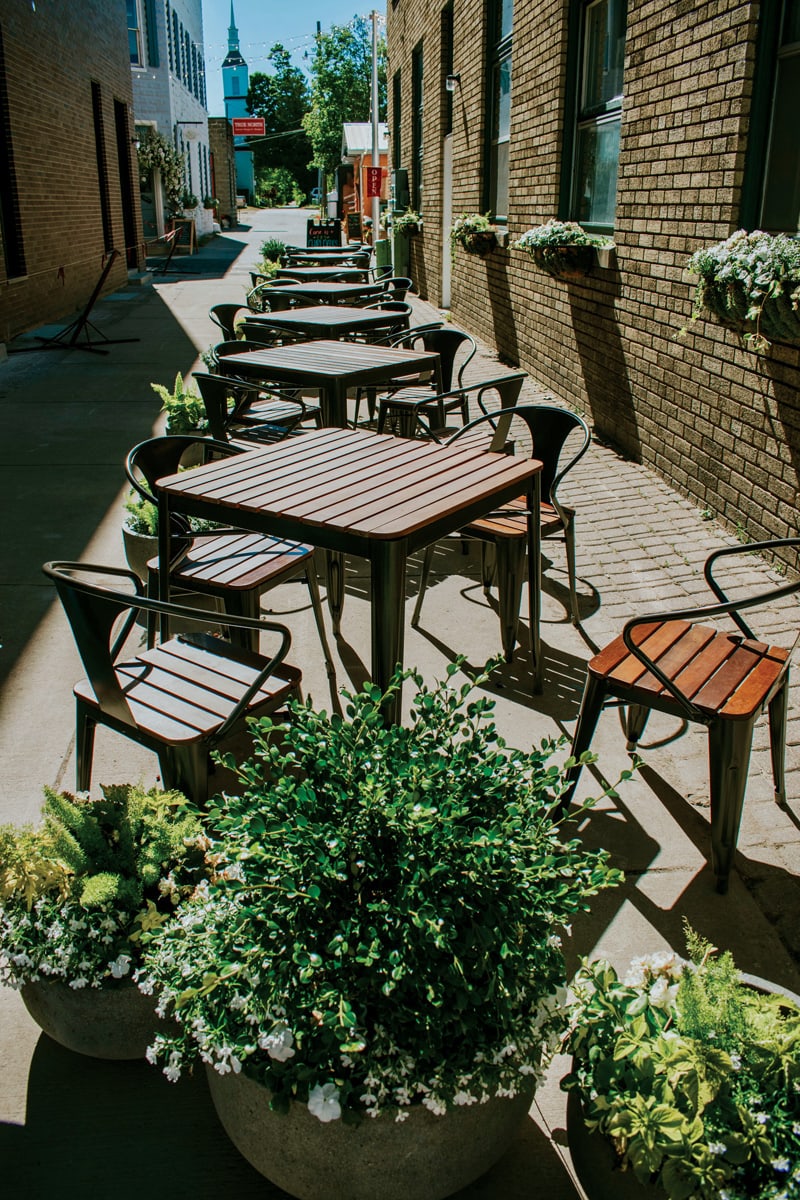 Photo by Tess Crowley // Van Pelt Alley
Everything is covered in keys at this Mackinaw City restaurant. Everything. Get lunch then head to Alexander Henry Park for the best views of the Mackinac Bridge (you can stand underneath it!), and visit neighboring Colonial Michilimackinac.
Kayak the stretch between the Hodenpyl Dam and Red Bridge river access site in Harrietta. Watch for eagles.
The U-Pick garden, filled with more than 40 varieties of annuals and perennials, sits at the corner of M-22 and Freeland Road (between Suttons Bay and Northport) and operates on the honor system, which makes us love it even more.
See who can spot an elk rub first! The Gaylord area is home to the second-largest elk herd east of the Mississippi, and bull elk use small trees to remove the velvet from their antlers creating "rubs." The short .75-mile trail is accessed off Whitmarsh Road.
Some of the North's best craft beverages are all found on the same street: Short's Brewing Company, Bee Well Meadery and Mammoth Distilling.
Exhibits feature Ernest Hemingway's life in Michigan, rare Odawa Indian artifacts and more. Bonus: The views of Little Traverse Bay are spectacular!
The highway from Traverse City to Charlevoix is lined with local farm stands and orchards. Pull over at Farmer White's and Altonen Orchards in Williamsburg, and Royal Farms and Friske's Farm Market in Ellsworth.
Iron Fish Distillery is Michigan's first farm-based distillery. The award-winning spirits are crafted by hand at the farm—from growing and harvesting the grain to fermenting and distilling. You can't get more local than that!
Photo by Kelly Rewa // Castle Farms
The best takeout Indian food in NoMi is at this Lake Leelanau grocery. Get the garlic naan and tikka masala.
Boardman Lake in Traverse City is a great place to paddleboard or kayak when you don't want to be out on the big lake. Drop in near the library on Woodmere Avenue, paddle around the east side (look for turtles, muskrats and baby ducks!) and then head to Right Brain Brewery. There's a beach and small boat launch area to tie up near Sixteenth Street; just walk up the hill to grab a beer. Then paddle around the west side of the lake and finish up with pizza and beer at The Filling Station. It's your own little beer tour!
Easy breezy family fun on the shore of Lake Mitchell.
Castle Farms in Charlevoix makes for a perfect day trip. Take a self-guided or guided tour of the castle, stroll the gardens and go wine tasting at 1918 Cellars (named for the year the castle was built).
The art galleries at both locations (Traverse City and Petoskey) always have free admission, with various shows throughout the year. Watch for special events and classes, too, such as Paint Grand Traverse and Charlotte Ross Lee Concerts in the Park.
Established in 1917, it was Michigan's first state park. Eleven years later in 1928, the renowned national music camp, Interlochen Center for the Arts, was created on the property adjoining the park. Spend a day fishing, swimming and paddling, then catch an evening performance.
Photo by Gail Snable // Fort Mackinac Tea Room
Milkshakesssssssssss.
Pictured Rocks National Lakeshore is made up of 75,000 stunning acres and 42 miles of Lake Superior coastline. You could spend a lifetime exploring it. But, if you only have a day, visit Chapel Rock. A lone white pine bravely grows atop the rock, facing the brutal wind and waves of Lake Superior head-on. Access it from the Chapel/Mosquito trailhead parking lot.
All of our small towns have fun annual traditions. The parades in Fife Lake and Beaver Island are a few of our favorites.
This casual, European-style bistro in Boyne City serves the classics—done well. Find a seat on the patio (with Lake Charlevoix views) and order boeuf bourguignon, salmon Florentine or a wood-fired pizza topped with smoked ham and Gruyere. Champagne and strawberries for dessert, anyone?
Goodhart Farms Nature Preserve near Harbor Springs is a mix of meadows and forests. The rolling fields on the 695-acre property offer views of Lake Michigan.
The hike is short. The view is unreal. Choose the easy route—a half-mile uphill walk, mostly stairs—or the difficult route—same distance, no stairs. The trailhead is on Big Bay Road (CR-550), about six miles northwest of downtown Marquette. Beers afterward at Ore Dock Brewing Company.
Hike a beautiful old-growth forest, then grab a craft beer in downtown Grayling at Paddle Hard Brewing.